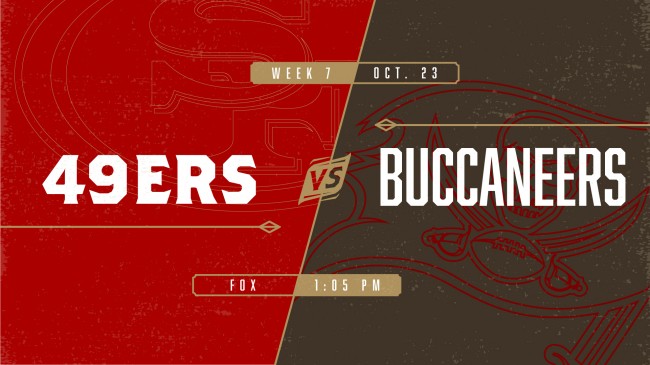 October 23, 2016 - 1:05 pm (PT)
| | |
| --- | --- |
|                  Presented by | |
DATE
Sunday, October 23
---
KICKOFF TIME
1:05pm
The San Francisco 49ers will take on the Tampa Bay Buccaneers on Sunday, October 23 at 1:05pm in Levi's® Stadium. For information on 49ers season tickets or premium suite rentals, sign up here, call 415-GO-49ERS, ext. 2 or email sblsales@49ers-smc.com.
We recommend that fans purchase parking passes in advance – passes purchased in advance will receive a $10 discount off the day of game purchase price. For this game, Green Lot 2, Green Lot 3, Red Lot 3, Red Lot 4 and Red Lot 5 will be open for cash payment.
The 49ers will hold their annual Breast Cancer Awareness game presented by Dignity Health this Sunday, in an effort to raise awareness as part of the NFL's "A Crucial Catch" campaign.
We ask that all guests attending the game, please review the stadium gameday guide prior to your arrival.
Gameday Promotions
Free Haircut at Great Clips: 3 Sacks = Free Haircut at your participating Great Clips — remember to text for the code when prompted to do so on the video board.
Levi's® Gear: Remember to wear your Levi's® gear to games this season! Amazing things happen when you live in Levi's®.
49% off Papa John's Pizza: 49ers win = 49% off all on-line pizza orders Monday, October 24 at www.papajohns.com using code 49ERS at checkout 
Exclusive Uber Zone: First-time riders, enjoy $15 off your first ride by downloading the Uber app and entering promo code 49ERS. Uber is the official ride-sharing partner of the 49ers.
Free Jumbo Jack at Jack in the Box if the 49ers Score 2 Touchdowns: This season, when the 49ers score two touchdowns in a game, home or away, you score a free Jumbo Jack with purchase of a large beverage the day after gameday. Only valid the day after gameday. At participating San Francisco area restaurants. ©2016 Jack in the Box, Inc.
$5 Peet's Coffee Gift Card Lucky Section Giveaway: If the 49ers make a 50+ yard field goal during the game one lucky section will win $5 gift cards from Peet's Coffee in celebration of their 50th anniversary!
Timeline
Sunday, October 23
| | |
| --- | --- |
| Visa Box Office Opens | 9:00am |
| General Parking Lots Open | 9:35am |
| Faithful Mile Opens | 10:05am |
| 49ers Museum presented by Sony | 10:05am |
| Premium Gates Opens | 10:05am |
| Stadium Gates Open | 11:05am |
| Kickoff | 1:05pm |
| Bourbon Pub Postgame Party | End of the 4th Quarter |
Quick Links
From pregame to postgame, check out your game day entertainment options. 
Charles Haley Book Signing at 11:30am
Come early to this week's game for a chance to purchase a copy of Hall of Famer Charles Haley's newly published book, Fear No Evil: Tackling Quarterbacks and Demons on My Way to the Hall of Fame. We will be hosting a book signing in the Intel Plaza from 11:30am – 12:30pm. Please note, only books will be signed.
70 Years Augmented Reality Card Set
Come early to the Levi's® Stadium Flagship Store for the fourth card in the exclusive 70 Years Augmented Reality Card Set! Before each Regular Season Home Game we will be giving out 2,000 trading cards as part of a 9-card set to commemorate different prolific moments through the 49ers' franchise. But wait, there's more! You can use the 49ers App to bring the card to life through an augmented reality experience where each card plays a unique video specific to the moment featured on the card. Supplies are limited, so come early to get the fourth card in the 70 Years Augmented Reality Card Set!
Golden Opportunities
Want to step you your gameday? Golden Opportunities allows you to have once in a lifetime gameday experiences that you will never forget. Watch your favorite team getting pumped up for the game from the field, kick your Faithful level up a notch with a photo opportunity with Sourdough Sam or the San Francisco 49ers Gold Rush, take home a key memento from the game and keep the memories alive forever! View all Golden Opportunities on the Levi's® Stadium mobile app.
Faithful Rewards Presented by Esurance
Fans are encouraged to interact with the team through Faithful Rewards presented by Esurance, the official loyalty program of the 49ers. Members can earn rewards for participating in 49ers activities including attending games, viewing content on the 49ers app, making concession and retail purchases and following the team on social media. Members of the free program earn yards by logging into their Faithful Rewards account in the Levi's® Stadium app and turning on Bluetooth on one's mobile device. On game day, members earn up to 150 yards by visiting the Esurance booth in the Faithful Mile.
This game only, members can spend their yards on entry into the Faithful Rewards Road Trip Sweepstakes to Miami. Fans enter this sweepstakes at 49ersFaithfulRewards.com.
Charity Sports Distributors
Bid on authentic 49ers memorabilia during each home game and take your prize with you after the game at the CSD auction locations atop Sections 107 and 124, and also inside the Brocade Club, Levi's® 501 Club and United Club.
Faithful Mile
Faithful Mile is a free pregame spot located just inside west entry gates of Levi's® Stadium, between A and C NRG Energy Bridges and opens 3 hours prior to the game. This 60,000 sq. ft. entertainment zone provides the perfect pregame destination to engage with 49ers partners, enjoy live entertainment from the Pepsi Stage, and hang out in the Bud Light Tailgate to watch all the early NFL action!
Red Zone Rally at Great America
The premier all-inclusive pregame party at 49ers games takes place at the Pavilion at Great America. For 3 hours prior to kickoff, Red Zone Rally pass-holders enjoy top-of-the-line food and beverage offerings inside a private, air-conditioned space featuring all the early NFL action. Red Zone Rally passes for the Buccaneers vs. 49ers game are now available for purchase on Ticketmaster.com.
49ers Museum presented by Sony
Stop by the 49ers Museum presented by Sony from 10:05am – 12:3pm and experience the rich tradition and history of the 49ers before they take the field against the Buccaneers at 1:05pm. Tickets can be purchased upon arrival.
Dignity Health Plaza
Fans, the Dignity Health Play Kind Zone is open pregame through the end of halftime for families attending the game with young children. The Youngest of the Faithful can partake in skills and drills, take a trip down a larger than life football slide, get their "My First 49ers Game" credential or enjoy complimentary face painting, air brush tattoo's or gameday hair coloring. Be sure to visit the Dignity Health Play Kind Zone at Gate C.
Dignity Health Plaza is a must stop for any fans with kids on game days! The plaza is open two hours prior to the game. Located within Dignity Health Gate C at the southwest corner of Levi's® Stadium, families are welcome to join 49ers Youth Football drills, the Dignity Health Play Kind Zone, complimentary face painting, a red & gold hairspray station and 49ers Kids Club signups. Kids attending their first-ever 49ers game will also receive a commemorative credential and lanyard.
Bourbon Pub Ultimate Postgame Experience
Enjoy more football action and head to Bourbon Steak or Bourbon Pub, located at Toyota Gate F, for the ultimate postgame experience after the game. For an elegant experience, head to Bourbon Steak for an upscale pre-fixe menu, $95 per person or head to Bourbon Pub for a more causal postgame menu. Reservations are recommended by calling 408-217-2490.
49ers Kids Club
Calling all 49ers fans ages 4-14! You are invited to join the 49ers Kids Club. Kids Club members are invited to several exclusive events, receive a Kids Club tin lunchbox as part of the membership kit and on gamedays, and have their birthdays displayed on the videoboard. Additionally, members have the chance to be selected as the 49ers Kickoff Kid which includes the chance to run onto the field at game time and be featured on the videoboard. For more information and to sign your child up, visit the Dignity Health Plaza or click here.
All guests ages 2 and above must have an event ticket to enter the stadium. There will be no re-entry after admittance. Guests should have their tickets ready to scan upon approaching the stadium entry gates. The ticket barcode must be visible no matter the ticket type.
Child Ticket Policy
Children ages 2 and over must have a ticket for entry.
Re-Entry Policy
No re-entry after admittance.
Wheelchair Accessible Seating
A limited number of accessible seats may be available for exchange on game day.  Guests wishing to exchange their seats for accessible seating should enter Toyota Gate F at the north side of the stadium and proceed to the Visa Box Office for assistance. For more information on accessible seating, please call Visa Box Office 408-579-4449.
Visa Box Office
The Visa Box Office will be open at 9:00am and is located at the north end of the stadium inside Toyota Gate F. Remote ticketing booths will be available at Intel Gate A, SAP Tower Gate B, Dignity Health Gate C and Gate E.
Levi's® Stadium will adhere to the following policy and prohibits all bags, backpacks and other carriers from being brought into the stadium with the following exceptions:
Clear plastic bags up to 12″ x 6″ x 12″
One gallon clear plastic zip lock type bags
Small clutch bags approximately the size of an adult's hand (4.5″ x 6.5″) with or without a handle or strap, may be carried into the stadium.
Bag Check Locations
There will be several bag check locations available for guests to check-in any bags that are not in compliance with the bag policy. These locations are located at the following: Toyota Gate F, Intel Gate A, Dignity Health Gate C
Secure a pre-paid parking pass in advance via the Levi's® Stadium app or Ticketmaster. Did you know you'll receive a $10 discount off the standard purchase price if you buy in advance? Parking lots associated with Levi's® Stadium are scheduled to open 3.5 hours prior kickoff. All guests must be in possession of a valid event ticket, pass, or credential to park in a designated parking lot.
Cash Lots
Cash lots (day of game parking) will be made available on a first-come first-serve basis. Prices vary per lot and will be $10 higher than if purchased in advance. For this game, the following parking lots will be open for cash payment: Red Lot 3, Red Lot 4, Red Lot 5, Green Lot 2, and Green Lot 3.
Accessible Parking
Mobility services will be onsite at 9:35am to provide roving carts throughout Green Lot 1 and the yellow lots for assistance to stadium gates. In addition, Bauer buses will provide shuttles from Blue Lot 1 to Dignity Health Gate C.
Bicycle Parking
Bicycle parking will be located outside of Intel Gate A pedestrian bridge and Dignity Health Gate C pedestrian bridge. All ticketed guests will be permitted the use of the San Tomas Aquino Creek trail beginning at 9:35am. The Silicon Valley bicycle coalition will be administering this operation.
Buses/Oversized Vehicles – Tailgate
Buses/oversized vehicles that wish to tailgate must park in Blue Lot 1 and contact the Visa Box Office at 408-579-4449 to purchase parking in advance.
Buses/Oversized Vehicles – Non-Tailgate
Buses/oversized vehicles or Charter Buses that do not wish to tailgate must park in Green Lot 1 and purchase parking in advance by contacting the Visa Box Office at 408-579-4449. You can also purchase parking through the Levi's® Stadium App.
Tailgating
Tailgating is permitted in specified areas only. Please view the parking lot map for which parking lots allow tailgating.  Non-compliance may result in ejection from the lot without compensation. Tailgating will cease after the game begins.
Parking Lots in Operation
Purchase pre-paid parking passes in advance on Ticketmaster.com or on the mobile app as prices increase by $10 on gameday.
Automobiles/Motorcycles:
Red Premium Lot 1/VIP,  Red Lot 3, Red Lot 4, Red Lot 5, Blue Lot 1, Green Lot 1, Green Lot 2, Green Lot 3, Yellow Lot 1, 2, 3
$50
Accessible Parking
Green Lot 1
$50*
Buses/Oversized Vehicles – Tailgate
Blue Lot 1
$120
Buses/Oversized Vehicles – Non-Tailgate
Green Lot 1
$100
*with valid placard
BUY PARKING
All guests must be in possession of a valid event ticket, pass, or credential to park in a designated parking lot. 
Amazon Prime Now Delivers to Red Lot 1, Blue Lot 1 and Green Lot 1 on Gameday 
Forget something for your game day experience? The 49ers have partnered with Amazon Prime Now to bring their ultra-fast convenient delivery to Red Lot 1, Blue Lot 1 and Green Lot 1 prior to kickoff. From sunscreen to charcoal to last minute needs and everything in between, Amazon Prime Now has thousands of products. Download the app or shop primenow.com for $10 off your first order with code 10PRIMENOW.*. They will be delivered within an hour right to your parking spot! 
---
HOW IT WORKS
Deliveries will be available from 4 hours prior to kickoff and will close 30 minutes after kickoff – available only in Red Lot 1, Blue Lot 1 and Green Lot 1 on game day. 
Download the Prime Now App or go to PrimeNow.com
Enter "95054" for the zip code to shop
At check out, enter "4900 Marie P. DeBartolo Way, Santa Clara, CA 95054" for delivery address
In delivery notes, enter your parking lot # (Red Lot 1, Blue Lot 1, Green Lot 1) and your nearest parking location or flag number
Please keep your phone handy – couriers will call you at time of delivery to confirm your location
10PRIMENOW Terms & Conditions
This is a limited time offer. Offer applies to first-time customer orders and is subject to minimum order amount in your delivery area. Offer available to Amazon Prime Members and only applies to products purchased through Prime Now that are sold and shipped by Amazon.com. Offer does not apply to digital content, alcohol or to orders placed through Amazon.com or any Amazon mobile application other than Prime Now. Offer good while supplies last. Items must be purchased in a single order and shipped at the same speed to a single address. Shipping charges may apply to discounted and free promotional items. Offer limited to one per customer and account. Offer may not be combined with other offers. Taxes, shipping and handling, alcohol and gift wrap do not apply when determining minimum purchase amount. The maximum benefit you may receive from this offer is $10. Amazon reserves the right to modify or cancel the offer at any time. Offer is non-transferable and may not be resold. Offer discount will be allocated proportionally among all promotional items in your order. If any of the products or content related to this offer are returned, your refund will equal the amount you paid for the product or content, subject to applicable refund policies. If you violate any of these terms, the offer will be invalid. Unless an Amazon Gift Card is the stated benefit of the promotion, promotional codes (including those placed directly in accounts) may not be redeemed for Amazon Gift Cards.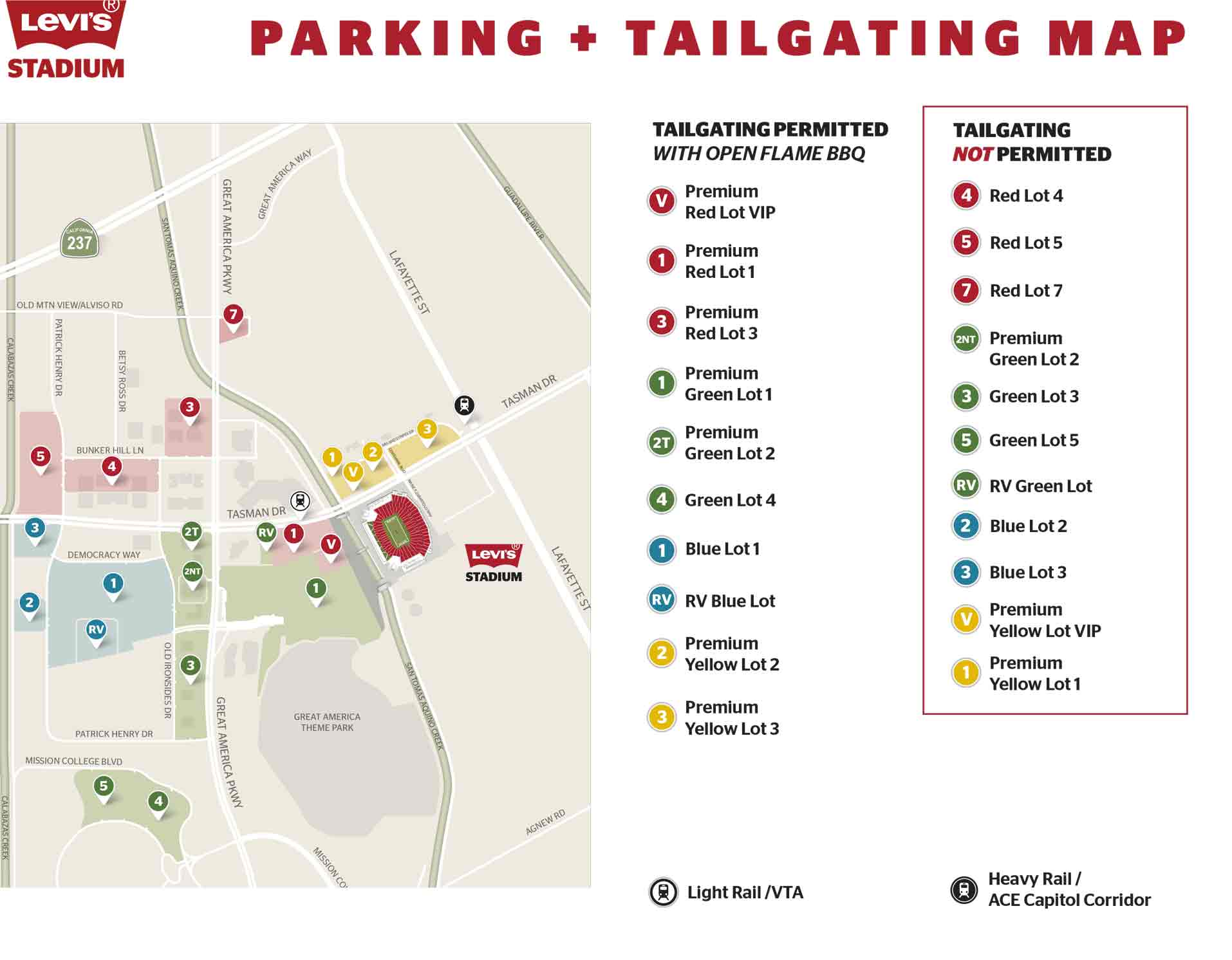 Tailgating is permitted in specified areas only. Non-compliance may result in ejection from the lot without compensation. Tailgating will cease after the game starts.
Tailgating is defined as; the use of any item (including tables, chairs, free-standing canopies or umbrellas, awnings attached to recreational vehicles, coolers, barbeques, grills, games, generators, televisions, sound systems, food or drink, food or drink preparation or serving equipment, or other items as identified by the City Manager or designee) for the purpose of an outdoor gathering by one or more people prior to, during or after a scheduled stadium event.
Tailgating will cease after kickoff.
All guests must be in possession of a valid event ticket or credential.
Amplified sound is prohibited.
Excessive consumption of alcohol is prohibited.
Tailgating cannot impede vehicle or foot traffic.
Tailgating is limited to the area directly in front of or behind your vehicle only.
Empty spaces may not be reserved or used for the purpose of tailgating.
Tents or canopies exceeding an 8' x 8' footprint are not permitted.
Appropriate receptacles must be used for the disposal of hot coals.
All Guest Code of Conduct and parking policies are in effect.
PERMITTED & PROHIBITED ITEMS
All individuals and their belongings are subject to search. The following information is subject to change without notice.
Fans with medical bags or items they must carry with them must be inspected and either have a wristband or sticker placed on it to show that it has been inspected. PLEASE ARRIVE EARLIER TO AVOID LAST MINUTE GATE PRESSURE.
The following ARE PERMITTED in the stadium during Levi's® Stadium Events:
Bags that comply with the Bag Policy (see Bag Policy above)
Blankets
Cameras with 3-inch lenses or shorter (no lights, tripods, selfie-sticks or monopods)
Clear plastic zip-lock bags
Diaper bags accompanying a child
Flags (No Poles)
Food and fruit (must be cut into pieces).
Plastic bottles (sealed) and thermoses (no alcohol)
Seat cushions
Strollers **
Umbrellas *
The following ARE PROHIBITED in the stadium:
Any distraction to the game
Any fan perceived to be intoxicated
Backpacks
Bags that violate the Bag Policy (see Bag Policy above)
Cans, glass bottles or alcoholic beverages.
Coolers (including soft-sided coolers)
Disorderly conduct or obscenity (see "CODE OF CONDUCT")
Failure to follow the directions of law enforcement, security, ushers, ticket takers, or any other Levi's® Stadium personnel.
Fighting, taunting, or threatening remarks and / or gestures
Gang activity
Glow sticks, light-up costumes, light-up signs, battery packs
Intoxication or signs of impairment related to alcohol or drugs
Irresponsible drinking or behavior
Klaxons, bullhorns, whistles or any other noisemakers
Laser pointers of any type
Mistreatment of visiting team fans, including verbal abuse, harassment, profanity, confrontations, intimidation, or threatening behavior.
Obscene or abusive language and / or behavior
Occupying any seat without the appropriate ticket
Offensive clothing
Projectiles (footballs, Frisbees, etc.)
Selfie Sticks
Sharpies
Signs, banners or poles
Smoking
Throwing objects of any kind
Weapons of any kind (including silverware).
* Umbrellas are allowed in the stadium provided they do not obstruct another guest's view or pose any safety hazard.** Please contact your nearest Playmaker if you are in need of storing a baby stroller or wheelchair as they are not permitted to be stored in the seating areas.
Anyone possessing PROHIBITED items will be asked to return them to their cars, take them to one of our Bag Check stations or dispose of them in the garbage cans provided at the gate.
Use the Uber app for a safe, reliable, and affordable ride to 49ers home games. Enjoy $15 off your first ride by downloading the Uber app and entering promo code 49ERS. Uber is the official ride-sharing partner of the 49ers.
PICK-UP AREA FOR UBER
Uber is the official ride-sharing parter of the San Francisco 49ers and will have a designated pick-up location for 49ers home games at Red Lot 7.
At the conclusion of the game, guests using the Uber app, should exit Levi's® Stadium through Intel Gate A or Toyota Gate F and follow signs to Red Lot 7 via the San Tomas Aquino Creek Trail and/or Great America Parkway.  We ask guests to open their app and request a ride once they arrive to the Red Lot 7.
For additional information regarding public transportation click here.
Valley Transportation Authority (VTA)
VTA provides buses and light rail transportation in the greater San Jose area reaching Mountain View, Cupertino, and Sunnyvale. VTA buses will drop off guests in two (2) locations:
› Intersection of Tasman Drive and Great America Parkway
› Intersection of Tasman Drive and Calle Del Sol
VTA light rail trains will drop off and pick up at the Great America Station located north of the stadium. For more information, please visit www.vta.org, or call 408-321-2300.
Central Valley – Altamont Corridor Express (ACE)
Altamont Corridor Express (ACE) Trains provide direct services to Levi's® Stadium from Stockton, Lathrop/Manteca, Tracy, Vasco, Livermore, Pleasanton and Fremont. For more information, please visit: www.acetolevisstadium.com or call 209-944-6220.
Caltrain
Caltrain provides services from San Francisco to South San Jose with stops all along the peninsula. On gameday, Caltrain transports passengers from all locations to connect with VTA light rail trains or buses at the Mountain View Transit Center, located at Evelyn Ave, and Castro Street. For more information, please visit www.caltrain.com, or call 1-800-660-4287. Click here to view the special events Caltrain schedule for this game.
East Bay – Capitol Trains
Capitol Trains provides services to Levi's® Stadium from Auburn, Rocklin, Roseville, Sacramento, Davis, Suisun/Fairfield, Martinez, Richmond, Berkeley, Emeryville, Oakland, Hayward, and Fremont/Centerville. For more information please visit: www.capitolcorridor.org or call 877-974-3322.
GET2theEvent
GET2theEVENT is a division of Bauer's Intelligent Transportation, official partners of the 49ers and Levi's Stadium.  Every Game Day…  GET2 provides direct, luxury, round-trip bus service from 10 convenient pick-up locations throughout the Bay Area.  In other words;  "DON'T DRIVE. ENJOY!"  Round-trip tickets are available now on our website – See you on board!
VTA Express Service Pass – Available for 49ers Home Games

---
VTA is offering new Light Rail Season or Single Game Passes for 2016 49ers home games. These passes allow the bearer round-trip service on VTA's new Express (limited stop) Light Rail from the Great Mall, Diridon Station, Santa Teresa and Mountain View light rail stations. Pass holders will experience priority departure and exclusive use of Express trains for their return trip!
Purchase your collectible VTA Light Rail Season Pass for $149 valid for all ten 49ers home games or buy a single event light rail pass for $20 online. Passes can also be purchased at the Visa Box Office at Levi's Stadium, or one of VTA's retail outlets (passes are available beginning August 11).
If you are ordering a light rail pass for a specific game, the order cut-off times are listed on vta.org/ExpressTrain. 
All accessible parking will be directed to Green Lot 1. Guests who possess a valid placard will be directed to park in Green Lot 1 and must display their placard at the entrance to be admitted.
Levi's® Stadium takes pride in providing elite service to all guests including those requiring mobility assistance. We provide a variety of services for our guests with special needs. Included in these services are courtesy shuttle buses from several of our parking lots, golf cart shuttles in the Main Lot, and Guest Services representatives to provide wheel chair service if requested. Guests that require additional assistance are encouraged to contact our mobility assistance team at 408-579-4610 or email mobilityservices@LevisStadium.com.
Assisted Listening Devices will be available at all Guest Services kiosks presented by United located throughout the stadium.
Recommended exit routes to take based on your desired destination.
Exit Intel Gate A
For fans riding the VTA Light Rail to Caltrain, Uber or who have parked in Red Lot 1/VIP, Red Lot 3 or Red Lot 4 should exit via Intel Gate A.
Exit Dignity Health Gate C
For fans parked in Blue Lot 1, Green Lot 1, 3 or heading to the Charter Bus Parking lot, we recommend exiting via Dignity Health Gate C.
Exit Toyota Gate F
For fans riding ACE trains, VTA Buses, Capitol Corridor trains, taxi or rideshare, Uber or who have parked in Yellow Lots 1, 2, 3 should exit via Toyota Gate F.