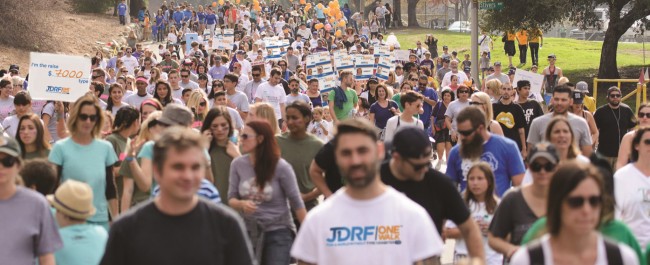 October 9, 2016 - 11:00 am (PT)
Levi's Stadium will host more than 1,000 advocates representing local businesses, families, schools, and other organizations for the JDRF One Walk™ on Sunday, October 9th, 2016. Check-in begins at 9:30 am and the walk route is approximately 5K throughout the stadium. The event is one of more than 200 community JDRF Walks nationwide that bring together hundreds of thousands of people each year who share JDRF's vision to create a world without type 1 diabetes (T1D). For the Walk in Santa Clara, the chapter has set a fundraising goal of more than $320,000 which will help fund critically needed T1D research.
"Whether you have type 1 diabetes, know someone who does, or want to simply participate in an event that makes a huge impact on so many lives, JDRF welcomes you to our team," said Jenny Williams, Chair of the JDRF One Walk, Silicon Valley. "Thanks to the incredible supporters of JDRF One Walk, we are able to direct even more funding toward important T1D research for the 1.25 million people with this serious disease. We are confident that together, we will reach our fundraising goal and ultimately Type One into Type None."
JDRF One Walk is expected to draw an enthusiastic crowd of all ages, driven to support a great cause while enjoying an event that includes information and resources for the T1D community, lunch and refreshments.
DATE
Sunday, October 9
---
CHECK-IN
9:30 AM
---
STARTS
11:00 AM
---
LENGTH OF WALK
3 Miles
JDRF One Walk is the most powerful peer-to-peer fundraising program in the world for T1D, raising more than $68 million annually. Since 1992, the event has raised more than $1 billion dollars for life-changing T1D research—research that has led to breakthrough discoveries, many of which have already moved into clinical trials and real-world testing. Although there has been considerable progress, there is plenty more we have yet to accomplish. As JDRF's flagship fundraising event and the largest T1D event in the world, JDRF One Walk provides the perfect opportunity to get more involved in your local JDRF community and show your commitment to creating a world without T1D.
Type 1 Diabetes (T1D) is an autoimmune disease in which a person's pancreas loses the ability to produce insulin—a hormone essential to turning food into energy. T1D strikes both children and adults suddenly and is unrelated to diet or lifestyle. It requires constant carbohydrate counting, blood-glucose testing, and lifelong dependence on injected insulin. With T1D there are no days off, and there is no cure. Approximately 1.25 million Americans have T1D, accounting for 5% of all diabetes cases.

JDRF is the leading global organization funding type 1 diabetes (T1D) research. Our mission is to accelerate life-changing breakthroughs to cure, prevent and treat T1D and its complications. To accomplish this, JDRF has invested nearly $2 billion in research funding since our inception. We are an organization built on a grassroots model of people connecting in their local communities, collaborating regionally for efficiency and broader fundraising impact, and uniting on a national stage to pool resources, passion, and energy. We collaborate with academic institutions, policymakers, and corporate and industry partners to develop and deliver a pipeline of innovative therapies to people living with T1D.