Grupo Firme | Enfiestados y Amanecidos (spanish)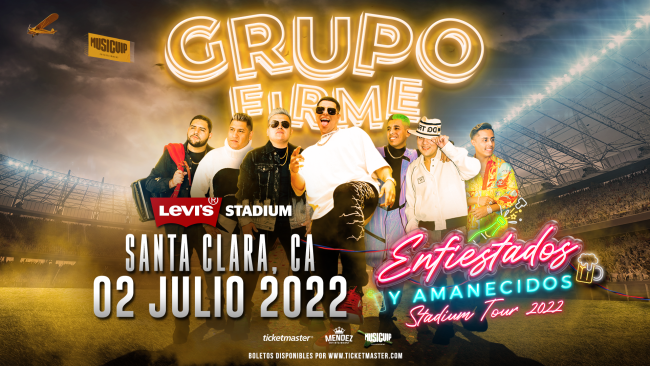 July 2, 2022
Fenómeno regional Mexicano Grupo Firme anuncia su primera gira de estadios en los Estados Unidos para 2022. Presentado conjuntamente por Music VIP Entertainment y Mendez Entertainment, el septeto de Tijuana, ganador de un Grammy Latino, trae su espectáculo de alta energía a Levi's® Stadium el 22 de julio de 2022.
Tickets are on sale now. 
Timeline

| | |
| --- | --- |
| Estacionamientos abren | 4:30pm |
| Puertas del estadio abren | 5:00pm |
| Concierto comienza | 7:00pm |
POLIZA DE ESTACIONAMIENTO
Todos deben estar en posesión de un boleto, pase o credencial válido para el evento para estacionar en un estacionamiento del estadio. Descargue los pases de estacionamiento prepagos antecipadamente y agrege a su cartera móvil para acelerar el proceso de estacionamiento. Estacionamiento estará disponible de forma limitada el día del evento. Solo tarjeta de crédito se aceptará como forma de pago.
Estacionamiento Accesible
Mobility Services ofrecerá servicios en (estacionamiento) Red 1 desde las 4:30pm.
Estacionamiento de bicicleta
Estacionamiento de bicicleta se ubica afuera de la Dignity Health Puerta C y abre a las 4:30pm.
Autobuses/Vehículos de gran tamaño
Autobuses/vehículos de gran tamaño deben estacionarse en Blue RV y deben contactar a Visa Box Office (Taquilla) al 408-579-4449 para comprar boleto de estacionamiento por adelantado.
Tailgating
Tailgating no está permitido para este evento.
Estacionamientos en operación
Tenga en cuenta que los precios listados representan el precio del día del evento.  
Autos/motocicletas 
Red Lot 1, Blue Lot 1, Yellow Lot 2, Yellow Lot 3
$50
Estacionamiento para personas con acceso limitado*
Red Lot 1
$50
Autobuses/vehículos de gran tamaño
Blue RV Lot
$120
*with valid placard
All guests must be in possession of a valid event ticket, pass, or credential to park in a designated parking lot. 
Todos vistantes mayores de 2 años deben tener un boleto de evento para ingresar al estadio.
Agrege sus boletos de evento y estacionamiento en Cartera de Apple o G Pay para acelerar el proceso de entrada al estacionamiento y el estadio.
No hay reingreso después de la admisión.
Tenga sus boletos listos para escanear al acercarse a las puertas del estadio.
El código de barras del boleto debe ser visible a pesar del tipo de boleto.
Visa Box Office (taquilla) abre a las 4:30pm y está ubicado en el norte del estadio en Toyota Puerta F. Boletos pueden estar disponibles a venta en taquilla en el día del evento.
Boletos no se enviarán por correo electrónico ni estarán disponibles para imprimir. Su boleto debe mostrarse en su teléfono móvil para ingresar al evento.
Los servicios de valet de bolsa no están disponibles. Solo serán permitidas bolsas que cumplan con la Póliza de Bolsas transparentes de Levi's Stadium.
Levi's Stadium prohíbe que se traigan al estadio bolsas y mochilas, con las siguientes excepciones:
Bolsas transparentes aprobadas mas pequeñas que 12" x 6" x 12". Estos incluyen las siguientes bolsas transparentes:

Mochilas transparentes
Reñoneras transparentes
Bolsas transparentes

Bolsas de plástico transparente tipo zip lock de un galón
Cartera pequeña (tamaño de la mano de un adulto) (4.5" x 6.5")
Cojín de asiento
Please note, tickets will not be emailed or available to print. Your mobile ticket must be displayed on your phone to get into the event using the 49ers App.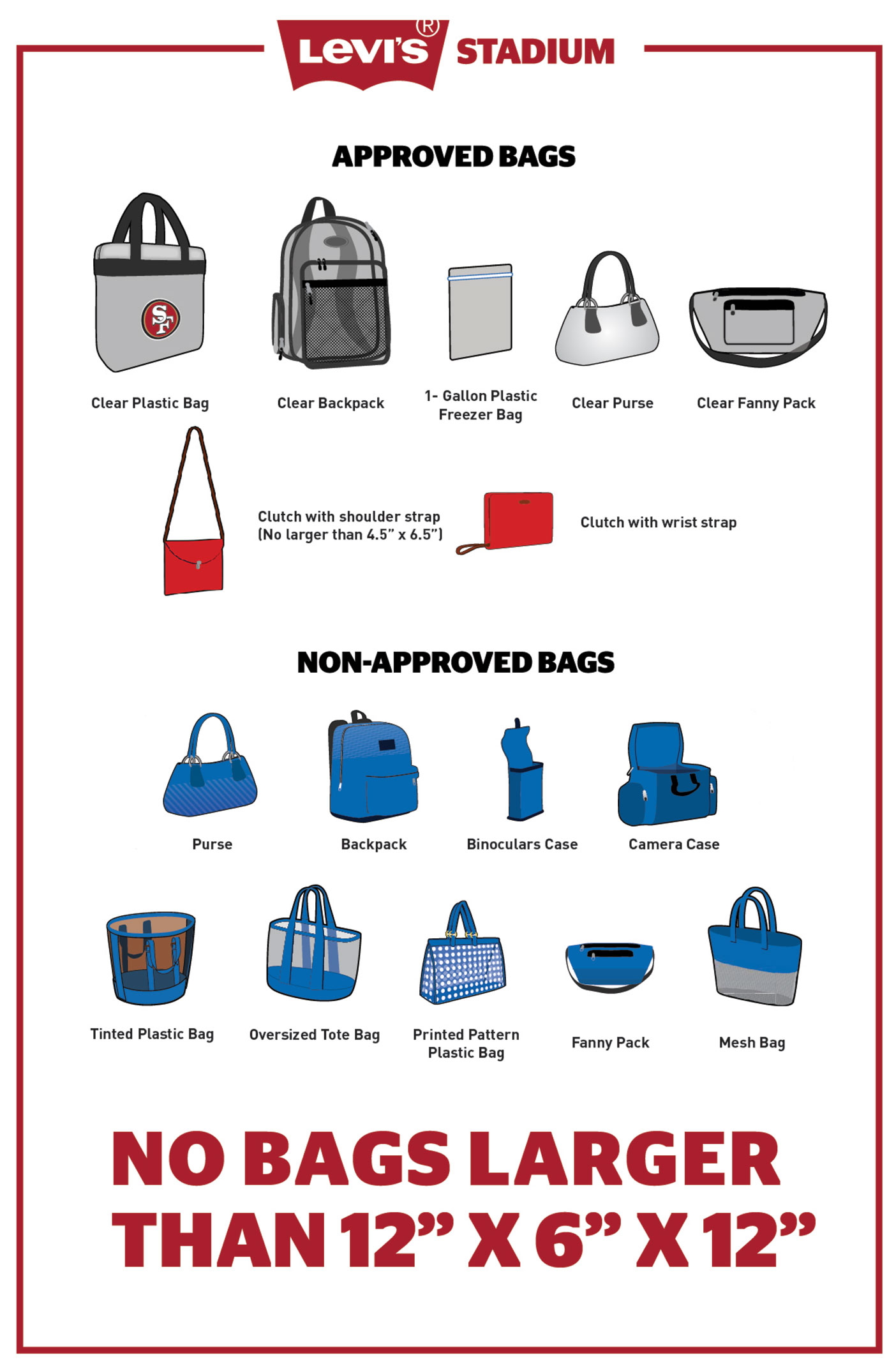 PERMITTED & OBJETOS PERMITIDOS Y PROHIBIDOS
Todas las personas y sus pertenencias están sujetas a control de seguridad. La siguiente información esta sujeta a cambios sin previo aviso.
Aficionados con bolsas médicas o artículos que deben llevar consigo serán inspeccionados y recibirán una pulsera o adhesivo para mostrar que han sido inspeccionados. POR FAVOR LLEGUE TEMPRANO PARA EVITAR RETARDOS DE ÚLTIMO MINUTO EN LA PUERTA.
Los siguientes artículos son permitidos en Levi's Stadium durante eventos:
Bolsas que cumplan con la Póliza de Bolsas (consulte la Póliza de Bolsas arriba)
Binoculares de menos de 6 pulgadas (la caja está prohibida)
Cobijas
Cámaras con lentes de 3 pulgadas o menos (sin luces, trípodes, palos para selfies o monopies)
Bolsas de pañales que acompanãn a un niño
Banderas menores que 2'x3' (sin postes)
Alimentos y frutas (deben estar cortados en pedazos)
Botellas de agua de plástico (selladas de fábrica, sin alcohol, menos de 24oz)
Botellas de agua transparente reutilizables (sin alcohol, menos de 24oz)
Cojines de asiento
Cochecitos (comuníquese con el Playmaker más cercano si necesita almacenarlo)
Protector solar y atomizadores manuales
Paraguas (sin obstrucción de la vista de otros aficionados)
Cubrebocas protectoras
Desinfectantes de manos hasta 12oz
Los siguientes artículos no están permitidos en el estadio:
Latas de aerosol
Bebidas alcohólicas
Bolsas que violan la Póliza de Bolsas transparentes (consulte la Póliza de Bolsas arriba)
Cámaras con lentes mayores que 3 pulgadas (también se prohíben las luces, los trípodes, los palos para selfies y los monopies)
Latas, botellas de vidrio o bebidas alcohólicas
Papel picado
Drogas y parafernalia de drogas, marihuana y productos de marihuana
Hielera (incluidas las hieleras blandas)
Barras luminosas, trajes luminosos, letreros luminosos, paquetes de baterías
Capuchas, mascaras o cobertores faciales que ocultan la identidad u objetos para cubrir el rostro (con excepcioón de artículos medicos y religiosos)
Intoxicación o signos de deterioro relacionados con el alcohol o drogas
Beber irresponsable o comportamiento irresponsable
Claxons, megáfonos, silbatos o cualquier otro generador de ruido
Computadoras portátiles y bolsas para computadoras portátiles
Punteros laser de cualquier tipo
Ropa ofensiva
Botella de plástico mayor de 24oz
Proyectiles (pelotas de fútbol, frisbees, etc.)
Palos para selfies
Letreros, pancartas o postes
UAV (vehículos aéreos no tripulados)
Armas de cualquier tipo (incluida la platería).
A cualquier persona que posea artículos prohibidos se le pedirá que los guarde en su auto o los desenche en los botes de basura provistos en las puertas.
For additional information regarding public transportation click here.
Valley Transportation Authority (VTA)
VTA operará servicio especial de trenes por dos horas antes del evento, desde la estación Mountain View (transferencia Caltrain) y la estación Milpitas (transferencia BART). Duespés del evento, el servicio especial se ejecutará por aproximadamente 60 minutos. Para obtener más información, visite www.vta.org.
Rideshare
The rideshare drop-off location at Levi's® Stadium for this event will be Great America Parkway curbside, between Tasman Drive and Old Glory Lane. The pick-up zone is located in Red Lot 7. Follow signage and staff instructions for additional direction.
El alquiler de suites está disponible para este concierto. Clic aquí para obtener más información o regístrese abajo.