FC Barcelona vs. Juventus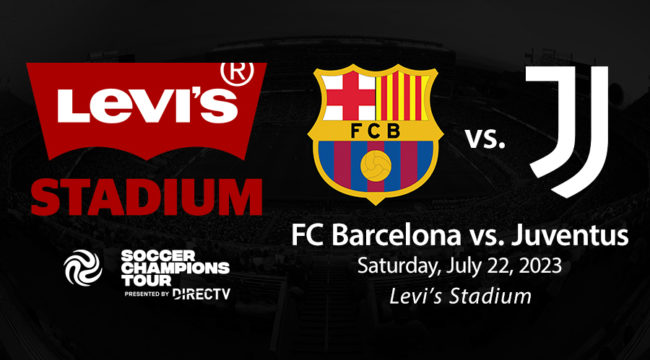 July 22, 2023
The Soccer Champions Tour match at Levi's Stadium between FC Barcelona v Juventus has been canceled. Tickets and parking passes purchased through Ticketmaster or directly from the venue will be refunded within 30 days to the original payment method. Customers who purchased through other sources should go through that source to obtain a refund, if applicable. Ticket and parking refunds will not be provided at the stadium itself. There are no additional changes to the Soccer Champions Tour schedule.
---
Ticket Policy
All guests ages 2 and above must have an event ticket to enter the stadium.
Add your tickets and parking passes into Apple Wallet or G Pay to expedite entry at parking and stadium gates.
There is no re-entry after admittance.
Guests should have their tickets ready to scan upon approaching the stadium entry gates.
The ticket barcode must be visible no matter the ticket type.
The Visa Box Office opens at 4:00 pm and is located at the north end of the stadium at Toyota Gate F. Walk-up tickets may also be available at the Visa Box Office.
Tickets will not be emailed or available to print. Your mobile ticket must be displayed on your phone to get into the event.
Timeline
Saturday, July 22nd, 2023

| | |
| --- | --- |
| Parking Lots Open | 4:00 pm |
| Stadium Gates Opens | 5:30 pm |
| Kickoff | 7:30 pm |
All guests must be in possession of a valid event ticket, pass or credential to park in a designated parking lot. Please download prepaid parking passes ahead of time and add them to your mobile wallet for an expedited parking process. Day of parking will be available on a limited basis. Credit card payment only. 
Accessible Parking
Mobility Services will be onsite at 4:00pm to provide roving carts from the mobility kiosks in Red Lot 1.
Bicycle Parking
Bicycle parking will be located outside Dignity Health Gate C and opens at 4:00pm.
Buses/Oversized Vehicles 
Buses/oversized vehicles must park in Blue RV and contact the Visa Box Office at 408-579-4449 to purchase parking in advance.
Tailgating
Tailgating is permitted in specified areas only. Please view the parking lot map for which parking lots allow tailgating. Non-compliance may result in ejection from the lot without compensation. Tailgating will cease after the event begins.
Bag check services are no longer available. Only bags that comply with Levi's® Stadium Clear Bag Policy will be allowed.
Levi's® Stadium prohibits all bags, backpacks and other carriers from being brought into the stadium with the following exceptions:
Approved clear bags no larger than 12" x 6" x 12". These include the following clear bags:

Clear Backpacks
Clear Fanny Packs
Clear Bags
Clear Purses

One gallon clear plastic zip lock type bags
Small Clutch Bag (the size of an adult hand) (4.5" x 6.5")
Seat Cushion
Please note, tickets will not be emailed or available to print. Your mobile ticket must be displayed on your phone to get into the event using the 49ers App.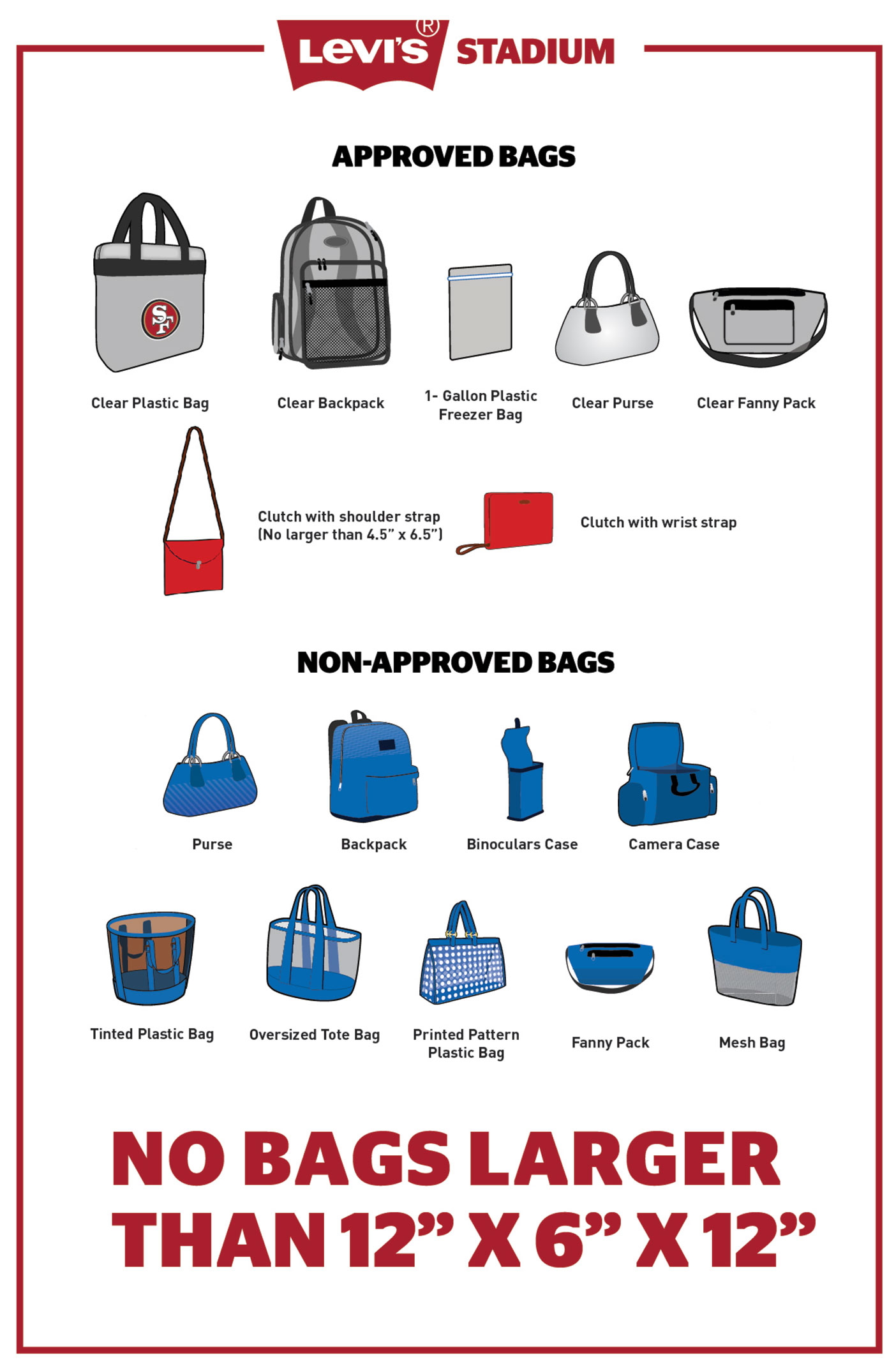 Tailgating is permitted in specified areas only. Non-compliance may result in ejection from the lot without compensation. Tailgating will cease after kickoff.
Tailgating is defined as; the use of any item (including tables, chairs, free-standing canopies or umbrellas, awnings attached to recreational vehicles, coolers, barbecues, grills, games, generators, televisions, sound systems, food or drink, food or drink preparation or serving equipment, or other items as identified by the City Manager or designee) for the purpose of an outdoor gathering by one or more people prior to, during or after a scheduled stadium event.
Tailgating will cease after kickoff.
All guests must be in possession of a valid event ticket or credential.
Amplified sound is prohibited.
Excessive consumption of alcohol is prohibited.
Tailgating cannot impede vehicle or foot traffic.
Tailgating is limited to the area directly in front of or behind your vehicle only.
Empty spaces may not be reserved or used for the purpose of tailgating.
Tents or canopies exceeding an 8' x 8' footprint are not permitted.
All Guest Code of Conduct and parking policies are in effect.
Tailgating cannot impede vehicle, foot traffic, or ADA paths of travel.
PERMITTED & PROHIBITED ITEMS
All individuals and their belongings are subject to search. The following information is subject to change without notice. 
Fans with medical bags or items they must carry with them must be inspected and have a wristband or sticker placed on it to show that it has been inspected. PLEASE ARRIVE EARLIER TO AVOID LAST MINUTE GATE PRESSURE.
The following ARE PERMITTED in the stadium during Levi's® Stadium Events:
Bags that comply with the Bag Policy (see Bag Policy above)
Binoculars shorter than 6 inches (case prohibited)
Blankets
Cameras with 3-inch lenses or shorter (no lights, tripods, selfie-sticks or monopods)
Diaper bags accompanying a child
Flags smaller than 2' x 3' (No Poles)
Food and fruit (must be cut into pieces)
Plastic water bottles (factory sealed, no-alcohol, less than 24 ounces)
Reusable transparent water bottles (no-alcohol, less than 24 ounces)
Seat cushions
Strollers (contact the nearest Playmaker if in need of storing)
Sunscreen & hand-powered misters
Umbrellas (no obstruction of other fans view)
Protective face coverings
Hand sanitizers up to 12 ounces
The following ARE NOT PERMITTED in the stadium:
Aerosol cans
Alcoholic beverages
Bags that violate the Clear Bag Policy (see Bag Policy above)

Cameras with lenses larger than 3-inches (lights, tripods, selfie-sticks, monopods, and gimbals are also prohibited)

 Cameras with removable lenses

Cans, glass bottles or alcoholic beverages
Confetti 
Drugs & Drug paraphernalia, marijuana & marijuana products
Coolers (including soft-sided coolers)
Glow sticks, light-up costumes, light-up signs, battery packs
Hoods, masks, or face coverings that hide one's identity or objects to cover one's face (medical & religious articles exempt)
Intoxication or signs of impairment related to alcohol or drugs

Irresponsible drinking or behavior
Klaxons, bullhorns, whistles or any other noisemakers
Laptops and Laptop Bags
Laser pointers of any type
Offensive clothing
Plastic bottles larger than 24 ounces
Projectiles (footballs, Frisbees, etc.)
Professional filming or recording equipment
Selfie Sticks
Signs, banners or poles
UAVs (unmanned aerial vehicles)
Weapons of any kind (including silverware).
Valley Transportation Authority (VTA)
VTA will operate increased train service from Mountain View station (Caltrain transfer) and Milpitas station (BART transfer) two hours prior to game start. Post-event service will run for approximately 60 minutes post-event. For more information, please visit www.vta.org.
Caltrain
Due to critical electrification construction and testing, the Caltrain service on event day will be partially replaced with a bus bridge service between Palo Alto and Hillsdale stations. Expect delays and longer travel times. For the latest information and schedule, please visit www.carltrain.com/status
Bay Area Rapid Transit (BART)
BART will operate a regular weekend schedule. For more information, please visit www.bart.gov.
Capitol Corridor
Capitol Corridor will operate a regular weekend schedule pre and post event. For more information, please visit www.capitolcorridor.org.
For additional information regarding public transportation click here.
All accessible parking will be directed to Red Lot 1. Guests who possess a valid placard will be directed to park in this lot and must display their placard at the entrance to be admitted.
Levi's® Stadium takes pride in providing elite service to all guests including those requiring mobility assistance. We provide a variety of services for our guests with special needs. Included in these services are courtesy shuttle buses from selected parking lots, golf cart shuttles in the Main lot, and Guest Services representatives to provide wheelchair service if requested. Guests that require additional assistance are encouraged to contact our mobility assistance team at 408-579-4610 or email mobilityservices@LevisStadium.com.
Assisted Listening Devices will be available at all Guest Services kiosks presented by United located throughout the stadium.
Recommended exit routes to take based on your desired destination.
Exit Intel Gate A
For fans riding the VTA Light Rail to Caltrain or BART, ridesharing or those who have parked in Red Lot 1.
Exit SAP Gate B
For fans parked in Red VIP.
Exit Dignity Health Gate C
For fans parked in Blue Lot 1 or any of the Green Lots.
Exit Toyota Gate F
Fans riding the VTA Light Rail or Capitol Corridor, or who have parked in Yellow Lot VIP.
GETTING HERE USING RIDESHARE
Drop-off/Pick-up Area for Rideshare
The rideshare drop-off location at Levi's® Stadium for this event will be Great America Parkway curbside, between Tasman Drive and Old Glory Lane. The pick-up zone is located in Red Lot 7. Follow signage and staff instructions for additional directions.
If you're interested in a luxury suite rental for this event, please fill out the form below, or contact us at 415-GO-49ERS, ext. 2, or premiumhospitality@49ers-smc.com.