49ers Rush presented by Subway®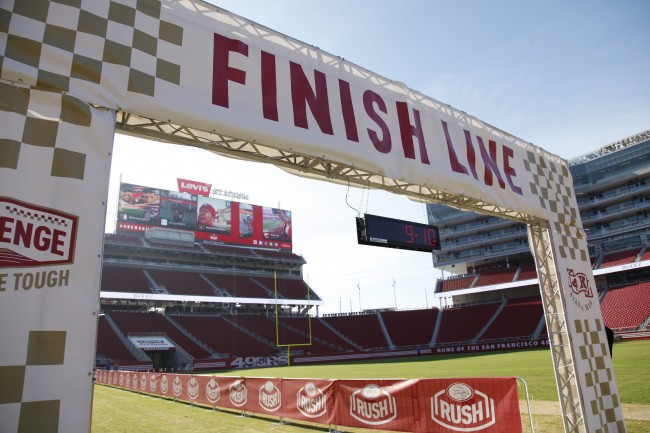 October 30, 2016
presented by:

About
The 49ers Rush presented by SUBWAY® is a first-of-its-kind event showcasing the San Francisco 49ers and our home, Levi's® Stadium. Rush features a 4.9K run/walk, The Challenge (a 4.9K with some extra-fun football features, like flipping tires, climbing stairs, and more), and Junior Rush (for youth 8-12 years of age).  
Start Times – Due to our desire to let you soak up and enjoy Levi's® Stadium without feeling like you're in a sweaty huddle the entire time, all events will start in waves (i.e. in groups every few minutes). Your final start time will be assigned to you the week of the race based on the pace per mile you enter during registration.

4.9K – TBD (in the morning)
The Challenge – TBD (in the morning)
Junior Rush – TBD (in the morning)

Team Registration (The Challenge only) – during registration you will have the option to register for The Challenge as a team. Teams are comprised of up to 15 members, and each member of your team will be placed in the same start wave. 
Rush Loot – All registrants receive a 49ers-branded event shirt and medal. Challenge recipients will also receive a little extra something special, because we're going to make you work for it.
Bib Pickup – Exact times TBD, but we'll give you the opportunity for a special visit inside Levi's® Stadium in the days prior to pick up your race materials (bib and shirt). 
Special Olympics Northern California – You will have the opportunity to donate to Special Olympics during registration, by virtue of a one time donation, or by sponsoring a Special Olympics Athlete to participate in Rush along with you. "We hope you do," said every single person you know. CLICK HERE for more info on Special Olympics Northern California.