Top 10 Instagram Worthy Spots at Levi's® Stadium

Wednesday, March 8, 2023
On your next trip to Levi's® Stadium, visit these spots for a picture-perfect moment.
Whether you're looking to level-up your Instagram page, snap a family photo
or it's your first time visiting Levi's® Stadium, this is the list for you.
We've explored every area around the stadium and identified some of the
best spots to pose for a picture. Here's our 10 favorite stops around Levi's®
Stadium that make a perfect IG moment:

#10 – Pepsi Fan Deck
Located in the north end zone of the upper concourse, the Pepsi Fan Deck is
an open-air communal space that overlooks the football field. The escalator
that brings visitors up to the fan deck goes through a giant Pepsi cup that
makes everything look miniature.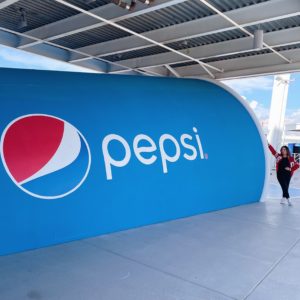 #9 – "Levi's® Stadium – Home of Super Bowl 50" Sign
For club and suite holders, snap a pic with this sign located in the SAP Tower
Atrium, right above the entrance to BNY Mellon Club West.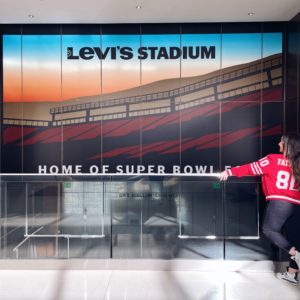 #8 – Levi's® 501 Club
This club is decked out in Levi's® decor and has walls of jeans that make a
unique background.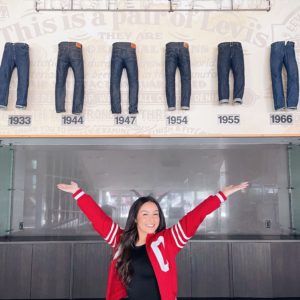 #7 – Yahoo! Fantasy Football Lounge
Located in the SAP Tower Atrium, fantasy football lovers should check out
the Yahoo! Fantasy Football Lounge where fantasy football champions can
snap a picture on the throne.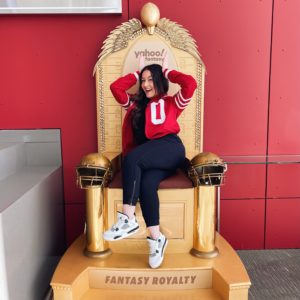 #6 – Citrix Club Level
In the far left of the Citrix club level is a painting that features the 49ers
Super Bowl winning quarterbacks. The artwork leaves space for the next
quarterback.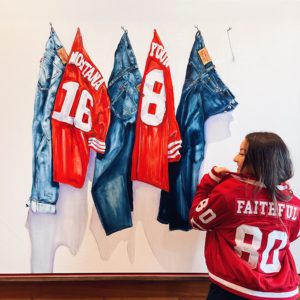 #5 – Faithful Pix Booth
On the concourse level behind Section 101, stop by the Faithful Pix booth to
snap a picture with some of your favorite 49ers players.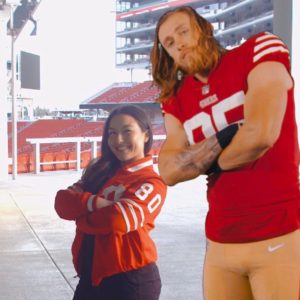 #4 – Faithful to The Bay Mural
Also on the concourse behind Section 120 is a hand-painted "Faithful to The
Bay" mural that features drawings of iconic moments in 49ers history.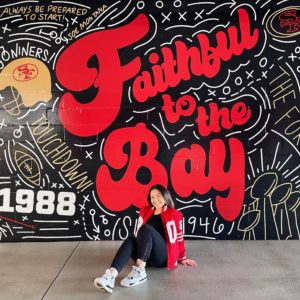 #3 – Giant 49ers Helmet
Right outside of Toyota Gate F is a larger-than-life 49ers helmet that is
perfect for a football pose.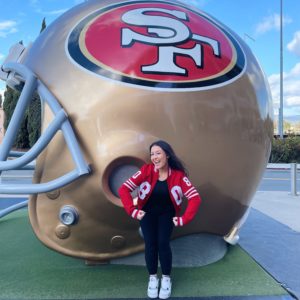 #2 – BNY Mellon Club
This area is field-level at the 50 yard line where you can score a view like
this.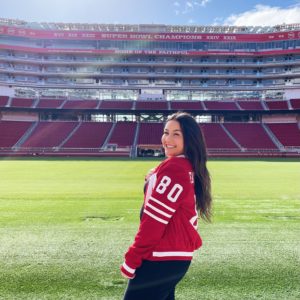 #1 – NRG Solar Terrace
At the very top of the stadium is the NRG Solar Terrace which features some
of the most breathtaking views of Levi's® Stadium.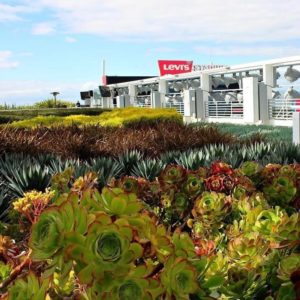 Check out our videos exploring these areas on the San Francisco 49ers
TikTok page here. Be sure to tag Levi's® Stadium as your location in all your
social posts in your next visit!