Levi's® Stadium Adds New Dining and Hospitality Offerings

Thursday, August 8, 2019
The 49ers and Levi's® Stadium partnered with Levy to make dining on gameday an amazing and memorable experience for fans. Levy is best known for creating incredible dining experiences at many of the world's most iconic sports and entertainment venues, including the Kentucky Derby, US Open, Wrigley Field, PGA Championship, and countless NBA, MLB, NHL and MLS All-Star Games, among others. This season, 49ers fans will notice an infusion of Bay Area favorite restaurants and new signature dishes spanning the wide range of flavors that define dining in The Bay. Several concessions and club dining destinations have also been refreshed with new dining concepts, and fans can take advantage of new self-service technology at a redesigned concession stand on the main concourse.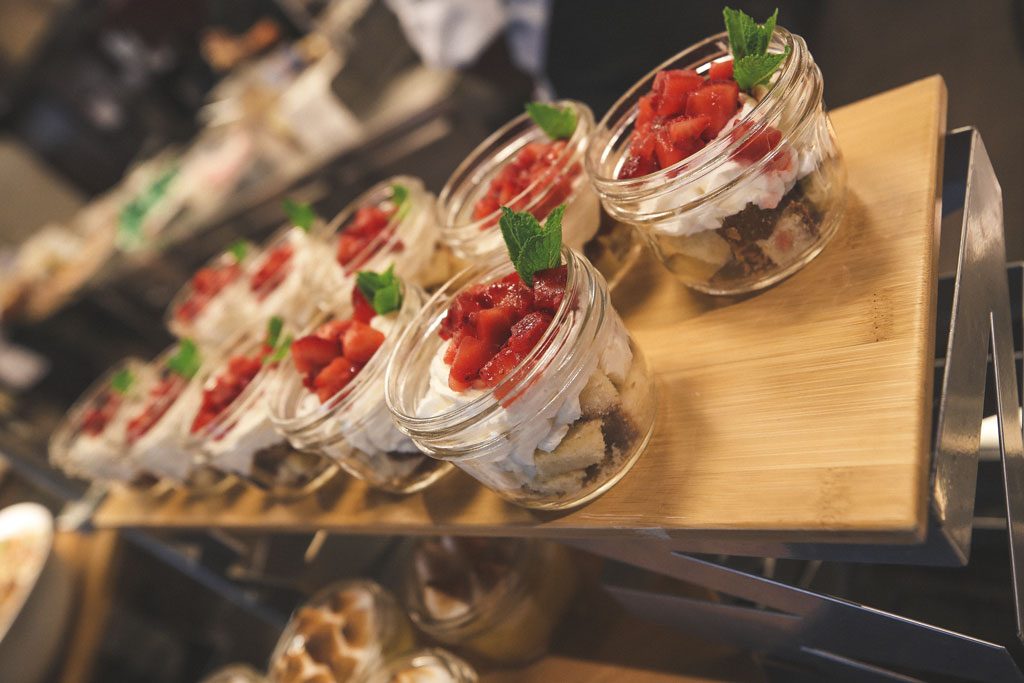 LEVI'S STADIUM'S CHEF, JON SEVERSON        
Jon Severson is a senior executive chef for Levy and leads the Levi's® Stadium culinary team. Chef Severson has served fans in many of the nation's top sports venues and his passion for seasonal, local products shines through on menus across concessions, suites and clubs, where he harvests fresh produce from the stadium's one-of-a-kind garden. Last season, Chef Severson introduced "The Coin Toss" signature dish competition at Touchdown Terrace, and this season fans will find more elevated takes on classic stadium fare. 
TASTE OF THE BAY AREA: MORE LOCAL RESTAURANTS AND FRESH, SEASONAL INGREDIENTS DEFINE LEVI'S® STADIUM DINING
49ers game days will celebrate the local culinary community this season. New Bay Area restaurants, signature dishes crafted with freshly harvested, seasonal ingredients and unique dining experiences will greet fans and guests throughout the season. Highlights include:
• New restaurant partners Churwaffle from Burgess Brothers, Iguanas Burritozilla, Konjoe Burger, Nathan's Famous, Sauced BBQ, Slice House by Tony Gemignani and Super Duper serve fans across the stadium
• Curry Root, The Organic Coup, Starbird and Sandi's Cobblers return this season
• Touchdown Terrace favorites The Chairman and Copita will have an expanded presence across the main concourse
• United Club, Levi's Stadium's largest indoor club space, has been refreshed with new options from local restaurants
• Winner of last season's "The Coin Toss" fan vote – the Sourdough Crab Sandwich – will be served on the main concourse
• Silva's Sausage (Gilroy, CA) will now provide hot dogs and sausages across the stadium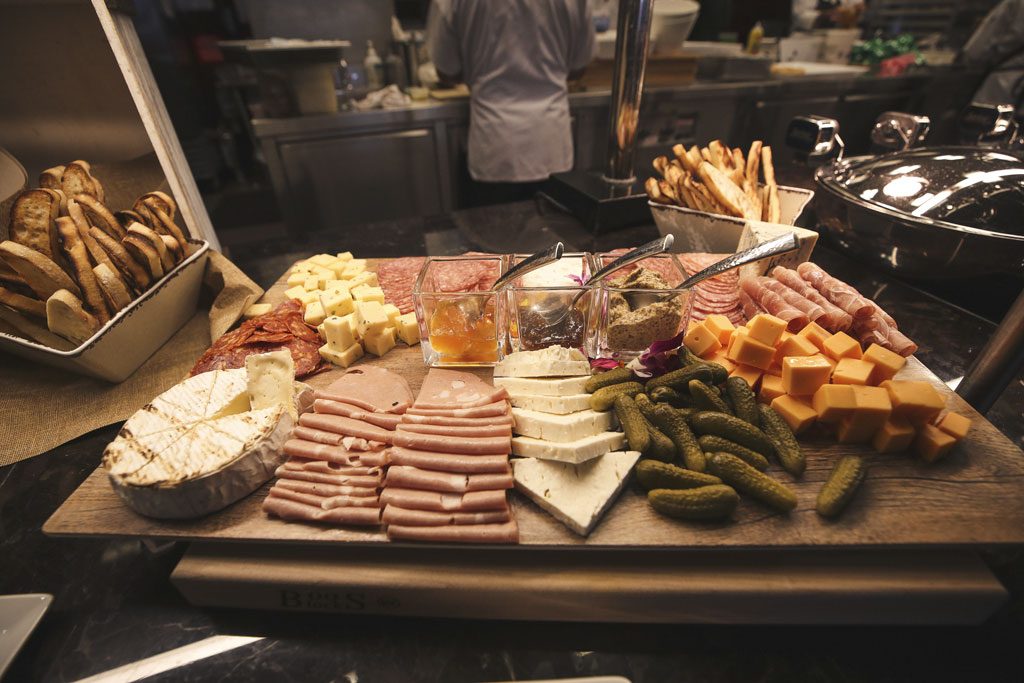 TOUCHDOWN TERRACE ADDS RESTAURANTS AND DINING DESTINATIONS ON THE OUTER CONCOURSE
The Levi's® Stadium dining hot spot located on the outer concourse unites 49ers fans around great Bay Area food and beverages and friendly hospitality. This season welcomes several new and returning flavors, including:
• New "Club Red" from Safeway will serve fresh-made sandwiches, ribs and desserts
• Bay Area and regional favorite restaurants Copita (Mexican), The Chairman (Asian street food), Mina's Bourbon Pub (American) and Salt & Straw (ice cream) return
SELF-SERVICE KIOSKS
Levi's® Stadium harnesses the power of data and experiential design from Levy and its technology and analytics subsidiary, E15 Group. This season, fans can take advantage of 11 new self-service kiosks at the concession stands outside section 132 to customize orders from a menu of favorite hot dogs, pretzels, chicken tenders and garlic fries. These stands are now cash-free and accept all major credit cards as well as mobile payments. Fans will be able to order themselves via touchscreen at the kiosk and pick-up their order at a designated counter at the stand.

Look for more hospitality technology news throughout the season.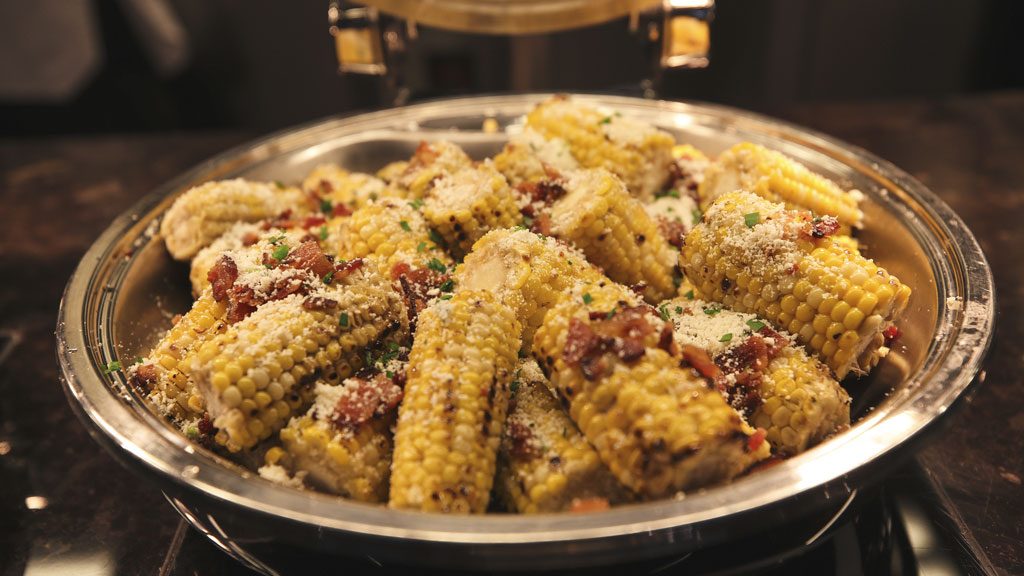 ADDITIONAL LEVI'S® STADIUM MENU NOTES AND HIGHLIGHTS
• Fan favorite and signature dishes, including hot dogs, burgers, chicken tenders, nachos and hand-cut fries served across concessions
• Suite and club menus featuring seasonal dishes made with produce from Levi's Stadium's Faithful Farm, including chives, garlic, cucumbers and more
• Faithful stadium staples such as Pepsi, Bud Light, Tostitos and Peet's Coffee
• The Tap Room (main concourse at the 50-yard line) features 40 craft, import and domestic beers, seasonal craft selections, and California wines on tap
• Best-in-class live-fire action kitchen in premium clubs
• Vegan and vegetarian menus, and offerings for those avoiding gluten available in concessions, premium clubs, and suites
• Commitment to local sourcing and sustainability across the stadium, including:
– 100 percent of food and beverage packaging and service-ware is recyclable, compostable or biodegradable
– 100 percent of seafood menu items certified by the Monterey Bay Aquarium Seafood Watch List
– 90 percent of food suppliers located in California