What the Coaches are Saying about the 2016 Foster Farms Bowl

Wednesday, December 21, 2016
The head coaches of the Utah Utes and Indiana Hoosiers recently spoke with reporters to share their excitement for the upcoming 2016 Foster Farms Bowl at Levi's® Stadium.
                                                                                                                         CLICK HERE TO PURCHASE TICKETS
The 2016 Foster Farms Bowl pits the No. 19 ranked Utah Utes (8-4, 5-4) out of the Pac-12 against the unranked Indiana Hoosiers (6-6, 4-5) from the Big Ten. The game will take place on Dec. 28, 2016 at Levi's® Stadium and can be viewed on FOX at 5:30 p.m. PT. Here are some of the most notable quotes from the competing schools.

Whittingham on bowl preparation:
"It's been primarily recruiting, although I have taken any spare time I've had to try to do a little bit of research. Recruiting ended yesterday, as far as the contact period. Now, we're in a dead period, so everything shifts gears and we'll be full on trying to game plan and prep for Indiana. A few things I do know, a 1,000-yard back and the kid on defense (Indiana LB Tegray) Scales is tremendous, he's the leading tackler in the Big Ten. I've talked to my Big Ten contacts and they tell me that they're a physical football team, physical on both sides of the line of scrimmage and extremely well coached. We've got our hands full."

Allen on his elevated position as head coach:
"(I'm) focused on recruiting at this point. (I) had chance throughout the recruiting trips to be able to watch some film on Utah and get a feel for them a little bit, but haven't done an extensive study yet. Our guys back in the office have bee doing more of that legwork."
Whittingham on recapping his team's efforts in 2016:
"We started off very well. I think we were 7-1 at one point in time and in the Top-10 of the country. (We) didn't finish very well. Our issue for the entire season really from start to finish was red zone offense. We struggled in the red zone all season long. Left too many points on the field and didn't take advantage of scoring opportunities. That's kind of the encapsulation of our season."
Allen on Indiana's 2016 season:
"As far as the season goes, it's been a little interesting development. Obviously, with my situation being the defensive coordinator during the season before being promoted to head coach. Feeling like a season where our kids competed hard each and every week. Fought to be bowl eligible for the second time in two years back-to-back, which has not happened a lot in Indiana's history. Really trying to get our programs to where bowl games are the norm and competing for conference championships is where we want to be. Excited to be out here in this bowl game. It's great to see the video of our players and how they responded to that they were coming out here. They were extremely excited and fired up. We feel blessed to be given this opportunity. We're going to make the most of it."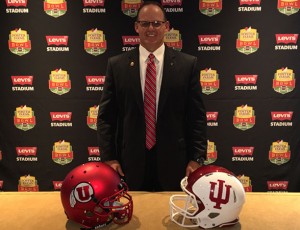 Allen on facing similar opponents to Utah:
"Well, I think their brand of offense is very similar to what we have in the Big Ten. Very good offensive line play like they have, big running back like they have, they big receivers and an athletic quarterback. I think Nebraska comes to mind in terms of the talent that we see. When you have a strong-arm quarterback that can run, big running backs and long receivers. I would say similar to them, but they're a very talented team that we see. Their special teams are what impresses me. I'm really impressed with what they do in that area. Their defense is extremely sound and their defensive line is impressive. We're used to seeing some good defenses. It's going to be a tremendous challenge for us because they're extremely talented and well coached."