VTA to Offer Express Service Passes to Levi's® Stadium for 49ers Games in 2016

Monday, August 8, 2016
Fans can get to and from Levi's Stadium faster and cheaper on VTA with a 49ers full-season pass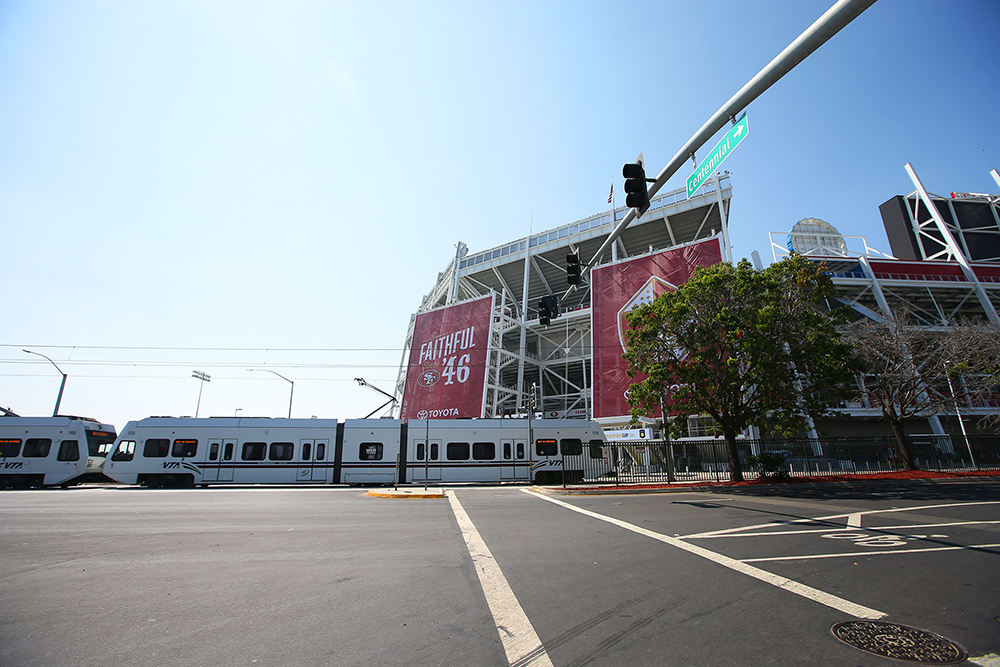 SANTA CLARA, Calif.  – The Valley Transportation Authority (VTA) is offering new season or single-game light rail passes to help 49ers fans get to games at Levi's Stadium faster in 2016. These passes allow the bearer round-trip service on VTA's new express (limited stop) light rail trains from the Great Mall, Santa Teresa, Diridon, and Mountain View light rail stations. Pass holders will have priority departure and exclusive use of express trains for their return trip.
Both full-season and single-event light rail passes are available for purchase online at VTA.org/49ersExpress. Passes go on sale at VTA retail locations beginning Thursday, August 11th – just in time for the 49ers preseason opener on Sunday, August 14th, versus the Houston Texans at 4:00 p.m. PT. The collectible 49ers VTA Light Rail Season Pass sells for $149, valid for all ten 49ers home games, and provides a discount off the $20 single-game light rail pass which is also available. Passes can also be pre-purchased at the Visa Box Office at Levi's Stadium.
Express bus service to Levi's Stadium is also available from Fremont BART, however the 49ers Season Pass only applies to light rail.
VTA Light Rail is the most direct route to Levi's Stadium for the greater South Bay area. Routes are scheduled daily to and from Mountain View, Sunnyvale, Milpitas, San Jose, Santa Clara, and Campbell. VTA light rail trains will drop off and pick up passengers at the Great America Station located on the North side of the stadium. For more information on the VTA transportation services or for a detailed schedule, please visit: www.vta.org/LevisStadium.
VTA Retail Locations and hours of operation: 
First Street Headquarters
3331 North First Street and River Oaks (Bldg. B – Lobby)
8 a.m. – 4:30 p.m. Monday – Friday
Downtown Customer Service Center
55-A West Santa Clara Street San Jose, CA 95113
9 a.m. – 6:00 p.m. Monday – Friday