Mina Group Announces Chef Steven Gotham as New Executive Chef of Bourbon Steak & Bourbon Pub at Levi's® Stadium

Friday, August 5, 2016
A Fresh New Menu Kicks Off Pre-Season Fun
Santa Clara, Calif. – Michelin-starred chef, Michael Mina has announced the arrival of Executive Chef Steven Gotham to lead his acclaimed Bourbon Steak and Bourbon Pub locations in Santa Clara at Levi's Stadium®. Bringing a passion for cooking at internationally acclaimed restaurants including Joel Robuchon, Bernardus Lodge, and the Lodge at Pebble Beach, along with a first-hand farm-to-table education, Gotham will oversee the operations of Bourbon Steak and Bourbon Pub as well as Michael Mina's Tailgate. Gotham will lead the culinary staff in innovative menu selections, working closely with Mina on presentation, quality and service for the operation as a whole.
Chef Gotham's passion for cooking began at a young age. While most kids watched cartoons after school, he soaked up inspiration from the "Great Chefs" series before cooking dinner with his mom, imagining how to recreate the techniques from the chefs. The Mennonite farms around his childhood home in rural Pennsylvania provided hands on experience, from milking the cows to making fresh butter, gathering eggs from the chicken coops, and helping harvest the local fruits and vegetables. For his first order of business, Gotham plans to listen and learn:
"I believe the first order of business is always to learn and understand the desires of our guests. Our top priority is to provide great hospitality and a memorable experience to our guests, on any given occasion and every single visit," said Gotham.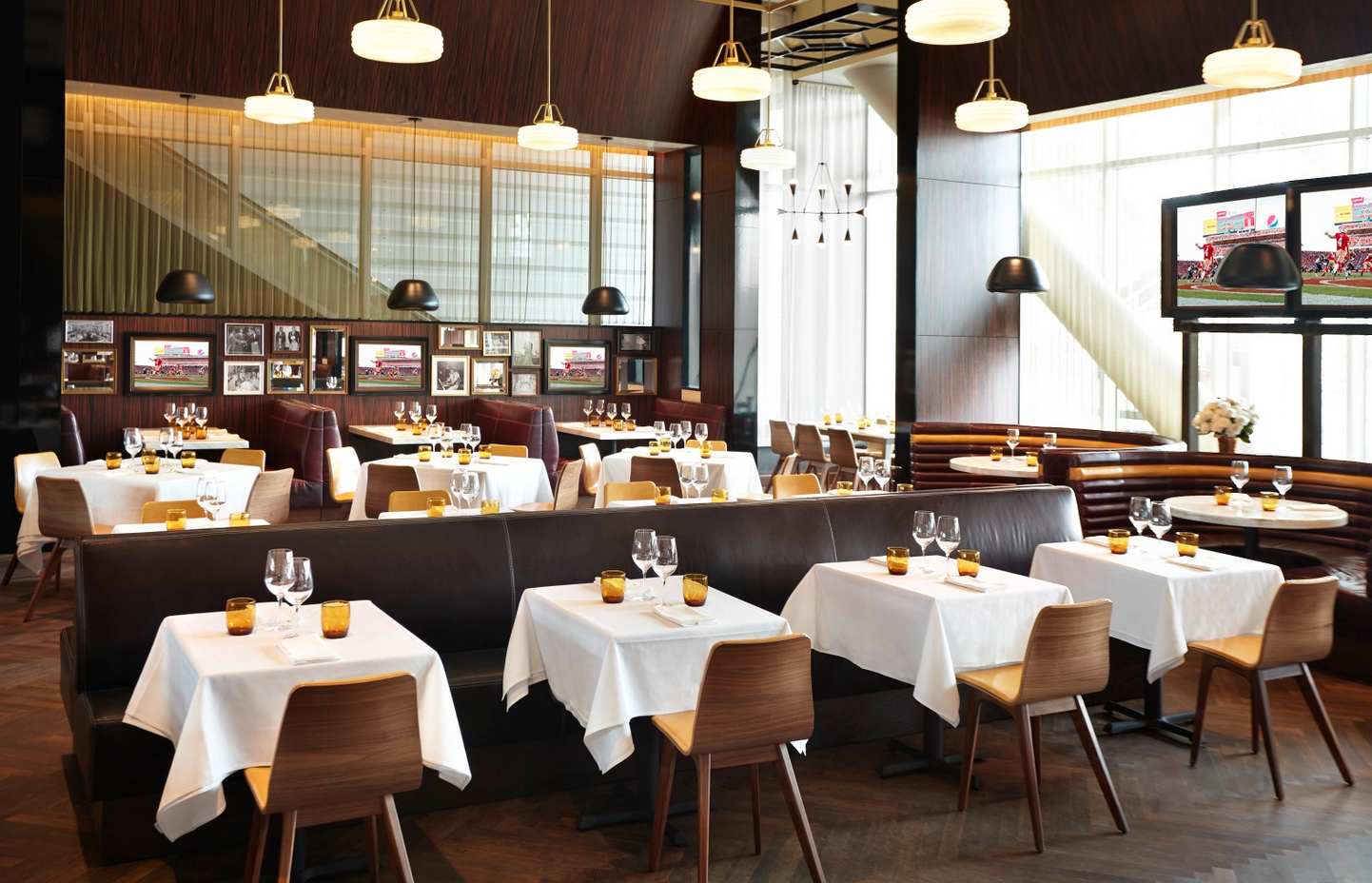 Gotham hopes to continue growing the operation and up-leveling the restaurant's presence in the local community. He is also updating the Bourbon Pub and Bourbon Steak menus with more varied, seasonal offerings. For the pub specifically, he is focusing on lightening the menu to provide more vegetarian and healthy lunch options, while creating more of a go-to place for families for any occasion, not just to catch the big game but for any night out.
Highlights from Chef Gotham's fresh, new menu at Bourbon Pub include Marinated Tomatoes ($12), which are served with a delectable mix of compressed watermelon with Thai herbs and ginger vinaigrette; Chilled Lobster Tacos ($21) served with avocado puree and grilled pineapple salsa. Main dishes such as the Moroccan Lamb Kebab ($17) with marinated cucumbers, mint and jalapeno yogurt are a delight to the palate and the Roast Beef Sirloin Salad ($22) featuring Suncrest Farm butter lettuce, Point Reyes Blue Cheese and pickled onion is both satiating and healthful. As a final a nod to summer's bounty, the Grilled Corn Salad ($13), served "elote style" with Fresno Chile, cotija cheese and chipotle dressing is an absolute favorite. For a full menu of Bourbon Pub's latest offerings, please visit: http://www.michaelmina.net/restaurants/san-francisco-bay-area/bourbon-pub/#menus
At Bourbon Steak, Gotham seeks to provide the best experience in the Silicon Valley, creating a place where the great businesses and overall community see Bourbon Steak as the top choice for the best dining experience in town. While the steakhouse already offers amazing steak options from some of the best purveyors in the country, Gotham's plan is to firmly establish its roots in Central California by building direct relationships with local farmers.
"We also want to develop a garden of our own that the restaurants will be able to draw from and deepen relationships with local fisherman to provide more local and unique options," said Gotham. "At the moment, we're bringing in ocean water from one now, and making our own sea salt to finish our steaks."
Highlights from Chef Gotham's new menu at Bourbon Steak include rare yet popular shellfish selections to start, including Kusshi Oysters for $3.50/each, Maine Lobster ($36), Wild Gulf Shrimp ($23) and Alaskan Red Kind Crab ($29). Brentwood Corn Agnolotti ($26) served with summer truffle, tarragon puree and corn milk, and the Foie Gras Mousse ($27) with brown butter Marcona almond crust, pickled local stone fruit, Santa Rosa plum sauce and five spices. The Tenbrink Farms Tomato Salad ($16) features a surprising offering of whipped Burrata cheese alongside wild arugula and a special banyuls dressing. The Fort Bragg Octopus ($21) is roasted in a wood oven and served with smoked potatoes, soffrito and crispy lemon. The Zucchini Wrapped Halibut ($42) features charred eggplant, basil puree and summer's best heirloom cherry tomatoes.
For a full view of Bourbon Steak's evolving menu additions, please visit:
http://www.michaelmina.net/restaurants/san-francisco-bay-area/bourbon-santa-clara/menus/
LOCATION / HOURS
Both Bourbon Steak and Bourbon Pub are located at 4900 Marie P. DeBartolo Way at Tasman Drive on the ground floor of the northeast corner of Levi's® Stadium (Gate F) in Santa Clara, California. Valet service is available every day, and additional parking lot is located across Tasman Drive. Welcoming guests six days a week, year-round, Bourbon Pub is open for lunch and dinner Monday-Saturday and Bourbon Steak is open for dinner Tuesday-Saturday nights from 5 – 9 p.m. Bourbon Pub is also open on game day Sundays. Before the start of each home game, the spirited Michael Mina's Tailgate draws hundreds for a member-only experience for 49ers season ticket holders, who are inspired by Chef Michael Mina's elaborate, themed tailgate parties he has thrown with 49ers fans for more than two decades. Reservations can be made through Open Table or by calling 408.217.2490. For additional details on Bourbon Steak and Bourbon Pub's menus and Michael Mina's Tailgate, visit www.BourbonSteakandPub.com, 'Like' BourbonSteakPub on Facebook, and follow @BourbonSteakPub on Twitter and Instagram.
ABOUT MINA GROUP
Mina Group is a San Francisco-based restaurant management company specializing in creating and operating upscale, innovative restaurant concepts. Mina Group is led by Chef/Owner Michael Mina whose accolades include James Beard Foundation "Who's Who of Food and Beverage" inductee in 2013, Bon Appétit Chef of the Year, Food Arts Silver Spoon Award Winner, San Francisco Magazine Chef of the Year, and International Food and Beverage Forum's Restaurateur of the Year. Operating since 2002, Mina Group currently manages 27 restaurant properties including MICHAEL MINA in San Francisco (Esquire Magazine's Restaurant of the Year 2011); BOURBON STEAK and CLOCK BAR at The Westin St. Francis on Union Square in San Francisco; RN74 at Millennium Tower in San Francisco and RN74 at the Joshua Green Building in Seattle; PABU and THE RAMEN BAR at 101 California in San Francisco; BOURBON STEAK & BOURBON PUB at Levi's Stadium in Santa Clara; STRIPSTEAK at Mandalay Bay in Las Vegas; MICHAEL MINA Bellagio at Bellagio in Las Vegas; MICHAEL MINA 74 and STRIPSTEAK at Fontainebleau Miami Beach; LOCALE MARKET and FARMTABLE KITCHEN at Sundial St. Petersburg in Florida; and THE HANDLE BAR in Jackson Hole. For a complete list of restaurants please visit http://michaelmina.net.