Grammy-Winning Artist Pitbull Teams Up with Becky G for 2016 Copa America Centenario Official Song

Thursday, May 26, 2016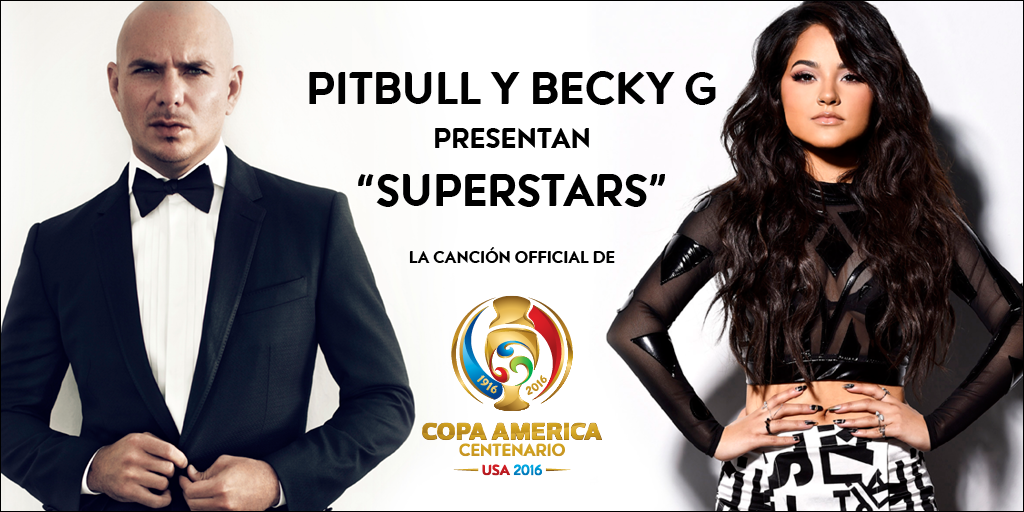 Pitbull and Becky G to Perform "Superstars" at Copa America Centenario Final at MetLife StadiumCHICAGO (May 24, 2016) – The Copa America Centenario Local Organizing Committee (LOC) announced today that globally renown, award-winning recording artist Pitbull has teamed up with singer, rapper and actress Becky G to produce the official Copa America Centenario tournament song "Superstars."
The song, written and produced by Pitbull, encapsulates the vibrant, international nature of Copa America Centenario, a once-in-a-lifetime soccer event honoring 100 years of the Copa America tournament and featuring some of the world's best teams and players. The tournament will be a true celebration of the sport and the fan culture, and "Superstars" will be the official soundtrack to this historic event taking place from June 3-26 in 10 markets across the United States.
An international music sensation, Pitbull has been a champion of Latin American culture throughout his career, and will be able to capture the essence of this tournament through "Superstars." Pitbull is no stranger to the world's largest sporting events, having performed alongside Jennifer Lopez and Claudia Leite at the 2014 FIFA World Cup opening ceremonies in Brazil.Pitbull and Becky G will perform the song live for the first time on Sunday, June 26 at MetLife Stadium after the tournament's final match in the New York metropolitan area. The post-game concert is included in the game ticket."Music is universal and soccer is the world's sport," says Pitbull. "It's an honor to be a part of Copa America Centenario and collaborate with Becky G on Superstars."
Becky G, a singer/songwriter and actress, started gaining recognition after posting several remixes of songs on YouTube and Garageband in 2011 at just 14 years old. Her musical style incorporates pop-rap with Latin-pop, having worked with Pitbull as he was featured on her first No. 1 Latin Airplay track,"Can't Get Enough," from her first album.
"I'm so blessed to be collaborating with my longtime friend and supporter Pitbull on Superstars," said Becky G. "I grew up watching the Copa America with my Grandfather, so to say I'm excited to perform at this world-class soccer event, in my home country, is an understatement!"

Music is the universal language, and soccer is the world's sport. So it's an honor to team up with Copa America Centenario and an upcoming superstar like Becky G, who I'm very proud of," says Pitbull. "Looking forward to touching the world. With that said, world get ready for the song 'Superstars.'"
The tournament, which includes half of the world's Top 10 nations per the May FIFA Rankings, will open on Friday, June 3, when host United States welcomes Colombia to Levi's Stadium in Santa Clara, California, in Group A action. The inaugural match will kick off at 9:30 p.m. ET, live on FS1, Univision, UniMas and Univision Deportes Network.
Buy your tickets now at www.ca2016.com

Copa America Centenario will be televised in more than 120 countries across the world, with Univision Network and FOX family of networks broadcasting all of the games live in the United States. All of the matches will also be available live on Futbol de Primera Radio in the United States.
Along with the opening match, other notable group matches include a rematch of the 2015 Copa America final between Argentina and Chile in Group D on June 6 (10 p.m. ET) and a second continental finals rematch when Jamaica and Mexico clash on June 9 (10 p.m. ET) in a replay of the 2015 CONCACAF Gold Cup final.
Copa America Centenario will feature some of the world's best teams and players from North, South and Central America, as well as the Caribbean. Lionel Messi, Javier "Chicharito" Hernandez, Luis Suarez, James Rodriguez, Michael Bradley, Clint Dempsey and many more are anticipated to take part in the tournament.