49ers STEM Education Program Honored with Santa Clara County Service Center Council Gold Award

Thursday, May 19, 2016
Earlier this week, the 49ers STEM Education Program was recognized by the Santa Clara County Service Center Council (SCCSCC) with the 2016 SCCSCC Gold Award for the team's efforts in educating Santa Clara County students.
The SCCSCC Annual Awards Dinner on May 18 in conjunction with the California Teachers Association additionally recognized several local teachers who have made a significant impact on local students or teachers' education rights. SCCSCC, which represents more than 13,000 teachers, also presented high-achieving students with award scholarships throughout the evening.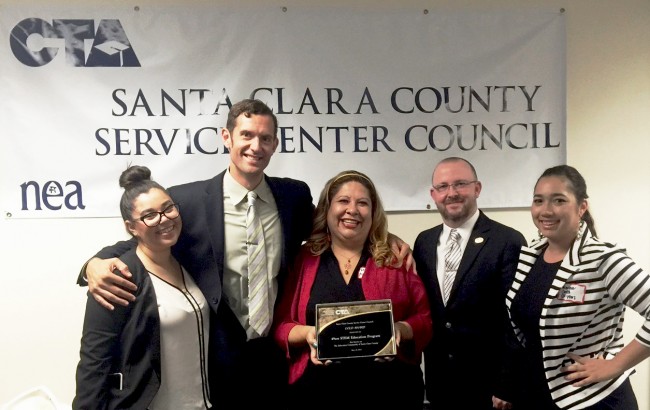 The 49ers STEM Education Program provides learningplatforms that will connect, inspire and engage more than 60,000 K-8 Santa Clara and greater Bay Area students this year. The 49ers innovative program taps into a passion point for youth by using football as a platform for teaching content-rich lessons in STEAM (Science, Technology, Engineering, Art, and Mathematics), ingraining invaluable life skills and encouraging physical activity.
"The 49ers STEM Education Program was cultivated for the Santa Clara community and larger Bay Area as a tool to help foster the next generation of STEM leaders," said Jesse Lovejoy, director of STEM Education & the 49ers Museum. "We are thrilled that, in our two years in operation, so many Santa Clara students and teachers have been enriched by the program. Moreover, we're honored to be recognized for these efforts by a respected organization like the Santa Clara County Service Center Council."
Since August 2014 and in partnership with Chevron, more than 4,500 students from SCUSD schools have participated free-of-charge in the 49ers STEM Education Program, housed in the Denise DeBartolo York Education Center at Levi's® Stadium.
"When the SCCSCC leadership noted during the ceremony that this award was bestowed after the fervent advocacy of several Santa Clara teachers — without our knowledge — we recognized how special this honor truly is," said Lovejoy. "We are humbled and look forward to our future service to all Santa Clarans and the Bay Area at large."
The first professional sports organization to embrace the STEM learning concepts for youth and provide free on-site programming, the 49ers STEM Education Program continuously evolves to enhance the student experience. By integrating innovative concepts that support classroom learning in the community and beyond, the 49ers are committed to remaining an industry leader in STEM education.
Deploying a multi-faceted approach, in 2014 the San Francisco 49ers additionally launched the 49ers STEM Leadership Institute (SLI), a collaborative education venture with the Santa Clara Unified School District. The program began with 60 high-achieving 7th graders at the Chevron STEMZONE at Cabrillo Middle School in Santa Clara and later this year will expand to Santa Clara High School. The six-year program exposes students to a rigorous curriculum of science, technology, engineering, and math to strengthen their skills in preparation for eventual entry into top-tier colleges in STEM fields in pursuit of STEM-based careers. Once the program is at full capacity in 2019, it will serve 350 students from 7th through 12th grade.