Super Bowl 50 Sets Records Across the Board

Wednesday, February 10, 2016
From Super Bowl 50 Host Committee
The San Francisco Bay Area Super Bowl 50 Host Committee today announced some initial statistics coming out of the Bay Area's Super Bowl.
Between January 30 and February 7, 1.1 million people – both Bay Area locals and out-of-town fans – visited these San Francisco events: Super Bowl City presented by Verizon, the 50th Mile and the NFL Experience driven by Hyundai.
"Everyone did an extraordinary job here to help stage a perfect celebration of Super Bowl 50," said NFL Commissioner Roger Goodell. "The leadership came together in a way we've never seen before and set a new bar for future host committees."
More than 200,000 fans joined in the celebration at Super Bowl City during the opening weekend that was designed specifically for local residents and featured a performance by San Francisco resident Chris Isaak. Three hundred thousand fans attended on the closing weekend, which featured free concerts by OneRepublic and fifteen-time Grammy winner Alicia Keys on The City Stage presented by Levi's.
"It's been our goal from the beginning to redefine the Super Bowl, and I believe we've done just that," said Keith Bruce, CEO of the Host Committee. "From the fan experience to use of technology to our unprecedented philanthropic focus, our region has redefined what it means to host a Super Bowl and set the tone for the Big Game's next 50 years."
The free public Super Bowl City was designed to showcase the best the Bay Area has to offer, with interactive exhibits and activities that highlighted the region's technological prowess, culinary excellence and cultural diversity, as well as celebrated the 50th Super Bowl and the Bay Area's place in professional football history.
"I'm thrilled that more than a million people from throughout the Bay Area and across the nation joined in the celebration of Super Bowl 50, and especially that so many families and local residents enjoyed the wonderful free concerts and activities at Super Bowl City," said Mayor Ed Lee. "Super Bowl 50 exceeded our expectations, showcasing the best of our City and the entire Bay Area to the world, bringing many millions of dollars in new revenue to our City from visitor spending and hotel and short-term rental stays, and supporting our local communities at the same time. Congratulations to the Super Bowl 50 Host Committee, to the Denver Broncos and to everyone who helped make Super Bowl 50 an unqualified success – raising the bar to be the best Super Bowl ever."
At the Handoff Ceremony to the Houston Host Committee on Monday, Bruce and Chairman Daniel Lurie thanked transportation partners, public and private organizations and city leaders from around the Bay Area including San Francisco Mayor Ed Lee, Santa Clara Mayor Jamie Matthews, Oakland Mayor Libby Schaaf, and San Jose Mayor Sam Liccardo for their strong collaboration as the host region for Super Bowl 50.
"The flawless execution of Super Bowl 50 is a terrific example of what can be accomplished when the region comes together," said recently retired Mayor Jamie Matthews of Santa Clara. "I believe this will be a real legacy for our region and extend well beyond Super Bowl 50."
"I'd like to thank the countless organizations, businesses and people who came together to make Super Bowl 50 a success, and particularly our dedicated police officers and firefighters who put in many extra hours leading up to and during the event," said San Jose Mayor Sam Liccardo. "This event provided an opportunity for people from all around the world to experience the rich diversity, character and innovation that makes the Bay Area so unique, and I look forward to collaborating to bring even more major sporting events to our region in the years ahead."
Through the 50 Fund, the Host Committee's philanthropic arm, the Host Committee has already given $7.5 million back to 141 high-performing local non-profits and impacted 537,209 children to date, and will give more than $13 million in total, the most ever raised by a Super Bowl Host Committee.
"From day one, we wanted to make this about more than a game," said Super Bowl 50 Chairman Host Committee Chairman Daniel Lurie. "Now that the final whistle has blown, we can say that Super Bowl 50 is the most giving Super Bowl to date, and that's something that every Bay Area resident should be proud of. Beyond the incredible festivities and memories, Super Bowl 50 will have a lasting, positive legacy on the Bay Area for decades to come, and I believe will be a model for major sporting events around the globe."
"Super Bowl 50 will have a lasting legacy in Oakland thanks to the generosity of the 50 Fund, which has provided 28 Oakland organizations with over $1.3 million to improve educational and life outcomes for our city's children and their families," said Oakland Mayor Libby Schaaf.
In addition to being the most philanthropic Super Bowl yet, records were also set for visits to a Super Bowl Host Committee website. The Super Bowl 50 Host Committee's website saw 5.9 million total visitors, with 4.8 million unique visitors and 11.7 million page views, and its single busiest day was Super Bowl Sunday when 386,936 visited the site. The website was developed with technology partner Channel One.
This year's Big Game was also the most watched. The CBS Television Network reported that it was watched by a record 167.0 million viewers, making it the most-watched single broadcast in television history.
Streaming coverage of Super Bowl 50 on CBS and NFL digital properties also set viewership records in every category, with the game streamed across more platforms than ever. The live stream drew 3.96 million unique viewers across laptops, desktops, tablets, connected TV devices and mobile phones.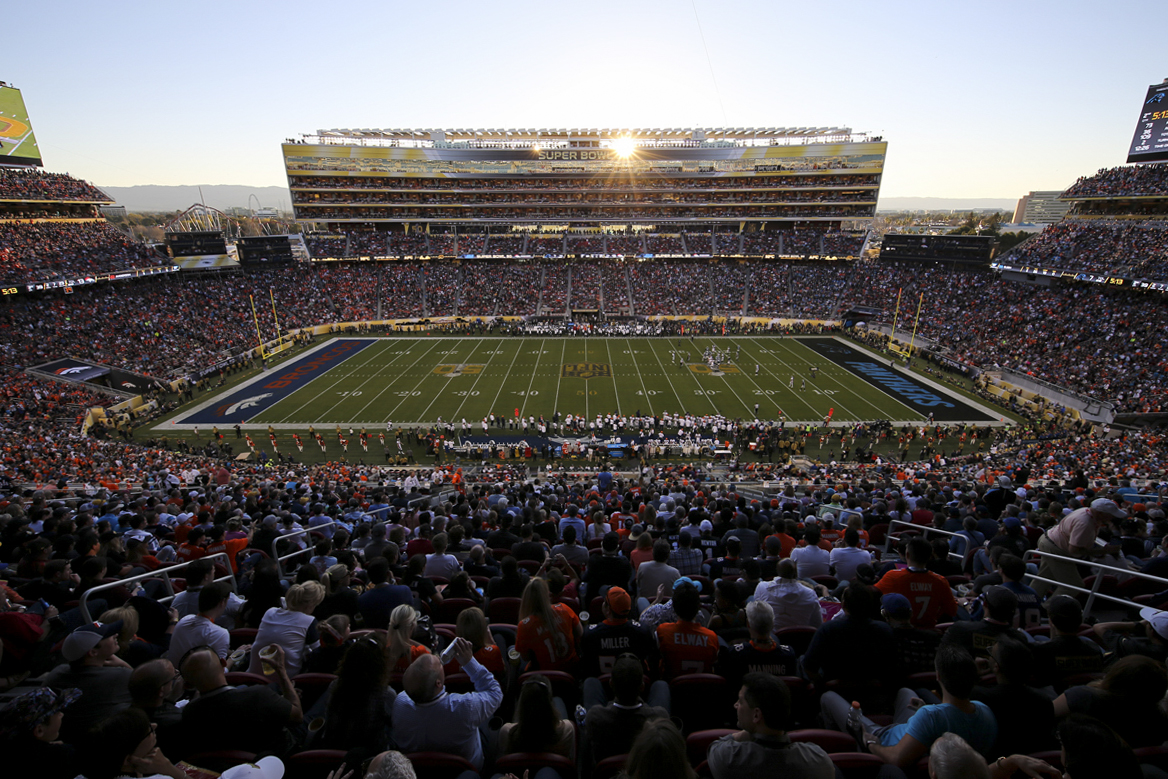 "What a wonderful week for the Bay Area, the NFL, the 49ers and NFL fans everywhere," said San Francisco 49ers CEO Jed York. "The entire region came together these last few years in impressive fashion by locking arms and working hard to show the world all that is special about the Bay Area. We thank the NFL community for providing us the great privilege of hosting Super Bowl 50 and we look forward to sport's greatest event returning very soon."
An independent report on the total economic impact of Super Bowl 50 will be released in early summer by Washington University's Dr. Patrick Rishe and Sportsimpact.
SUPER BOWL 50 INITIAL STATISTICS 
1 million: number of residents and visitors that came through Super Bowl City, the 50th Mile and Super Bowl Experience
$13 million: amount raised through the 50 Fund, the Host Committee's legacy fund
167.0 million: number of television viewers reported by The CBS Television Network
96 million: unique livestream viewers reported by The CBS Television Network
7 million: number of page views of the Host Committee's website
9 million: number of total visitors to the Host Committee's website
8 million: number of unique visitors to the Host Committee's website
386,936 visitors: busiest day on Host Committee website