Super Bowl 50 at Levi's® Stadium Sets Event Record by Transferring 10 Terabytes of Data on Gameday

Tuesday, February 9, 2016
SANTA CLARA, Calif. – Backed by 400 miles of data cable, more than 12,000 physical network ports, 1,300-plus Wi-Fi access points, approximately 1,200 Bluetooth beacons, and a ground-breaking backbone of 40 Gb/s of available internet bandwidth, the innovative Levi's® Stadium digital network infrastructure achieved levels of performance at Super Bowl 50 that have never been seen before at a single sporting or entertainment event.
"The performance of Levi's Stadium's connectivity was nothing short of amazing," said NFL Chief Information Officer Michelle McKenna-Doyle (@nflcio). "It blew away all our previous records and provided strong consistent connectivity for our fans to share their memories. We were very pleased."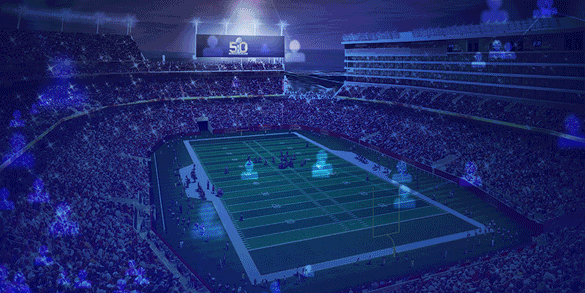 The initial review of the stadium network infrastructure uncovered the following results:
According to networking partners and industry experts, Levi's Stadium became the first venue to transfer 10 TB of data over a Wi-Fi network, transferring 10.1 TB of data during Super Bowl 50.
Super Bowl 50 saw 63 percent more data transferred than the previous high of 6.2 TB at University of Phoenix Stadium during last year's Super Bowl XLIX. In fact, by halftime Levi's Stadium had already passed the previous standard for most data transferred at any sporting event.
Fans alone used more than 9.3 TB of data during Super Bowl 50 while logging onto the SB50FREE network at Levi's Stadium, while media covering the game used 453 GB of data on their dedicated network. Cumulative data figures were compiled from 6am to 11pm PT, the entirety of which featured substantial activity on the network.
Data compiled from all cellular carriers that utilize the Levi's Stadium Distributed Antenna System (DAS), including NFL and 49ers partner Verizon, showed that 9 TB of data was transferred via DAS at Levi's Stadium during Super Bowl 50, 2.5 times the total from the previous record achieved last year at Super Bowl XLIX. Verizon led the way by transferring 7.0 TB over its dedicated network.
Overall, the Levi's Stadium Wi-Fi and DAS systems both set new Super Bowl records by halftime, transmitting or downloading more data in the first two quarters of Super Bowl 50 than last year's game did for the entire day.
Levi's Stadium also set Super Bowl records by registering 27,316 unique Wi-Fi users and a peak of 20,300 concurrent users (set at 5:55pm PT) during Super Bowl 50, topping the previous Super Bowl records from last year set at 25,936 and 17,322, respectively. The previous max for concurrent Wi-Fi users at Levi's Stadium was 18,901 for its inaugural regular season game vs. Chicago on Sept. 14, 2014.
With an official attendance of 71,088, Super Bowl 50 saw more than 38 percent of attendees utilize the Levi's Stadium Wi-Fi system with a concurrent max of nearly 29 percent of all fans in the stadium using Wi-Fi at one time.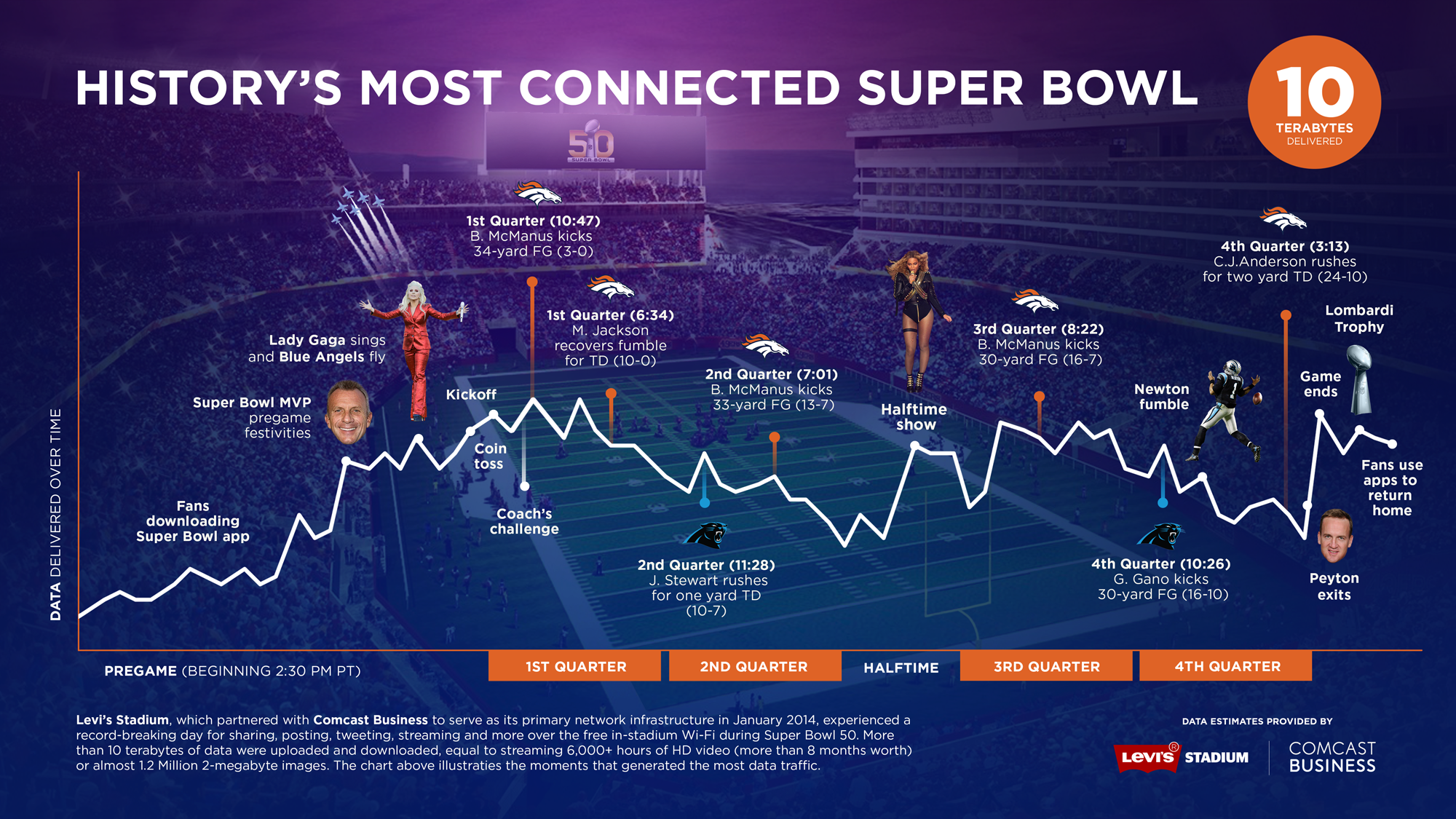 Super Bowl 50 established a new stadium best for peak Wi-Fi bandwidth of 3.67 Gbps (set at 3:25pm PT), passing the previous venue record of 3.55 Gbps for the NHL Stadium Series between San Jose and Los Angeles on February 21, 2015. Levis Stadium also posted a new NFL record with continuous Wi-Fi bandwidth above 3.0 Gbps for more than four hours.