NEW YORK ARTISTS CREATE MAGICAL HALL OF FAME STATUES

Friday, September 11, 2015
Charles Haley is now in select company. The 49ers former defensive end, recently enshrined in the Pro Football Hall of Fame, will soon have his statue unveiled at the Edward J. DeBartolo Sr. 49ers Hall of Fame alongside 26 other 49ers immortals including quarterback Joe Montana, receiver Jerry Rice and defensive back Ronnie Lott.   
Strolling through the Hall of Fame Gallery is thrilling and magical. Guests feel the presence of running back Joe Perry, defensive tackle Leo Nomellini and tackle Bob St. Clair as they sidle alongside the life-size statues. Each former gridiron great stands in a familiar football pose. Receiver Dwight Clark soars impossibly high into the air to make "The Catch," kicker Gordy Soltau follows through on a long field goal attempt, and quarterback John Brodie drops back with his arm poised to launch a deep pass. In fact, Brodie seems ready to spring into action and fire the football at anyone willing to play catch with him.
"We wanted to create something that allowed 49ers fans to walk amongst the team's greats," Ali Towle, the 49ers vice president of marketing said. "We want them to feel the aura and mystique of the franchise. To get goose bumps. Every time I go into that room of the museum I feel like we accomplished that goal."
Mike Libby, the club's manager of football administration and the executive responsible for the day-to-day design and construction of the 49ers Museum presented by Sony, likens the Hall of Fame gallery to a hallowed cathedral, a special place of reverence.
"Words can't explain how proud I was of what we did as a team," Libby said. I've walked through the Hall of Fame gallery hundreds of times and I still get goose bumps. It's a sacred space."
During the fabrication process Towle and Libby made nearly a dozen trips to New York to check on the Hall of Famers. They were created in Brooklyn by StudioEIS, a sculpture and design company which spent over 18 months conceiving, modeling and producing the original 24 statues. StudioEIS is the family-run shop of Ivan, Elliot and Debra Schwartz. During their four decades in business they have crafted statues for history museums and stadiums across the country and have developed a reputation for their eye to detail.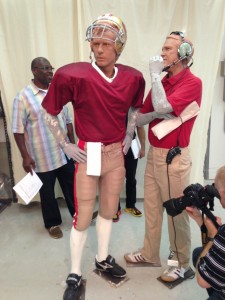 "The Joe (Montana) and Bill (Walsh) grouping was the first one we worked on," Towle said. "When I started to see their evolution and the uncanniness…I knew we had something special."
That painstaking attention to detail was the key to each likeness. Most living members of the 49ers Hall of Fame were brought into the Santa Clara facility where they were photographed from several angles, then measured from head-to-toe. Particular attention was paid to each player's head, feet, neck and hands.
A team of 13 artists, that included sculptors, painters, welders, molders and wig makers, created the finished product. The result is a wonderfully life-like creation that includes every conceivable wrinkle, blemish and scar. The statues practically beg museum guests to touch them, hug them, talk to them, or at the very least, photograph them. And that's what they were intended for. They were built with a blend of steel, resin, foam, plaster and plastic, dressed in real pads, cleats and uniforms, then coated with a metallic gray patina.
"The sculptors at StudioEIS did an amazing job," Towle said. "What I learned is that it's all about the eyes. Once you capture the eyes the rest flows from there."
Transportation from New York City to Santa Clara was the final step. One day in the summer of 2014, an 18-wheel big rig truck backed into the StudioEIS loading dock at the base of the Manhattan Bridge. There, an impressive collection of the greatest 49ers players ever to wear the red and gold were packed into wooden crates and rolled onto a trailer for their 3,000-mile journey to Levi's Stadium.
And now they are home, waiting patiently for 49ers fans to bask in their greatness.
By: Joe Hession
49ers Museum Historian