Artifact of the Game: 49ers at Cowboys

Thursday, September 4, 2014
The San Francisco 49ers visit the Dallas Cowboys to open the 2014 regular season. The two teams have been playing against each other since 1960 and created many everlasting memories. Chief among them: "The Catch" by 49ers wide receiver Dwight Clark to give the hometown team the 1981 NFC title.
The 49ers Museum presented by Sony inside of Levi's® Stadium has the very ball that quarterback Joe Montana threw to Clark in that historic moment, which embodied the 49ers dominance of the 1980s.
It's just one of many 49ers-Cowboys artifacts to be found in the Museum, which is open seven days a week from 10 a.m. to 6 p.m., including gameday.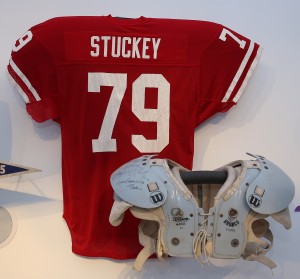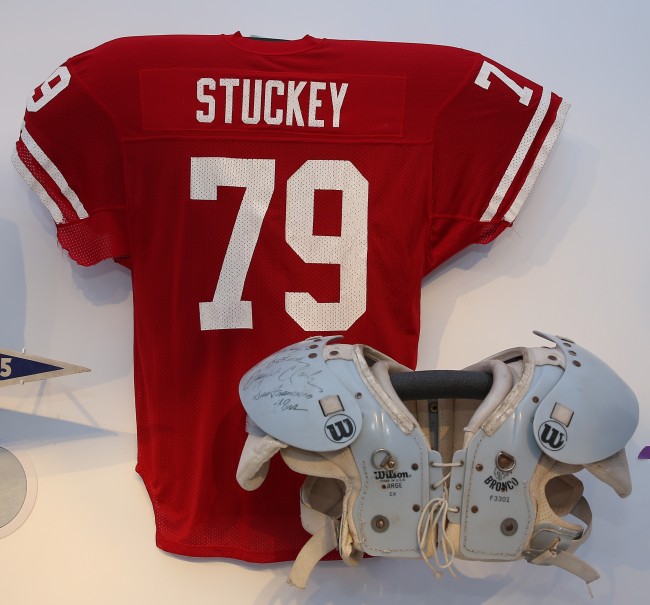 Here are four others to look for in the collection:
Jim Stuckey's jersey and Ricky Churchman's playbook from the 1981 NFC Championship game: "The Catch" tied the game and Ray Wersching's PAT kick gave the 49ers the lead over the Cowboys, but it was the 49ers defense that solidified the team's win. After the kickoff, Dallas had the ball with under a minute to go in the game, needing only a field goal to take the lead. 49ers defensive back Eric Wright prevented a touchdown run by tackling Cowboys receiver Drew Pearson at the 49ers 44-yard line.With 39 seconds left, defensive end Lawrence Pillars sacked quarterback Danny White, forcing a fumble. Defensive tackle Jim Stuckey recovered the ball, thus ensuring the 49ers first victory over the Cowboys in a playoff game. The playbook belonging to 49ers defensive back Ricky Churchman, a member of the 1981 team, is displayed in the museum with hand-drawn plays from then-secondary coach George Seifert.
1994 Halas Trophy: In the early 1990s, the 49ers faced off against the Cowboys in three consecutive playoff games, all of which were NFC title matches. The 49ers were defeated in the 1992 and 1993 games, but finally came through in 1994, prompting Steve Young's notable "Victory Lap."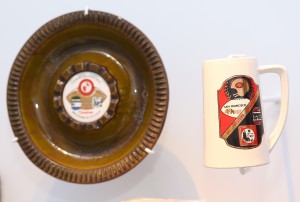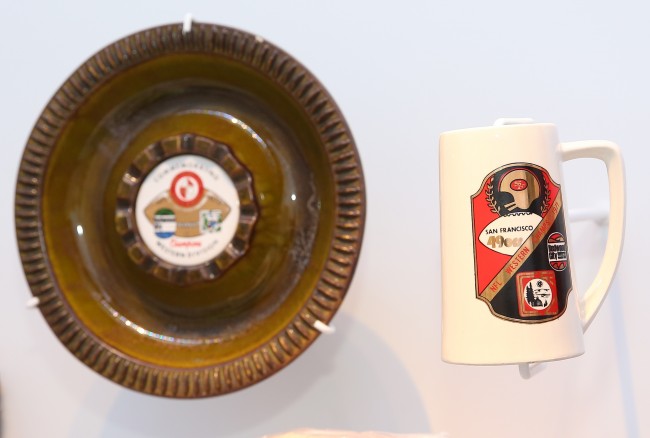 Ashtray (1970), mug (1971) and team autographed ball (1972): These artifacts represent the three consecutive Western Division Championships earned by the 49ers in the early 1970s as well as the first time that the 49ers met the Cowboys in the playoffs for three seasons in a row. Each of these years, the 49ers were knocked out title contention by the Cowboys. The first two match ups, played in 1970 and 1971, were NFC Championship games, with the 1970 contest being the 49ers last game at Kezar Stadium.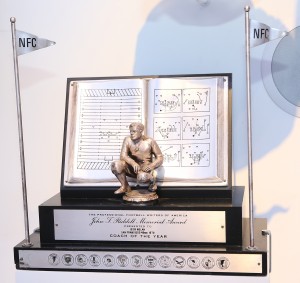 Dick Nolan's 1970 NFC Coach of the Year trophy and 1971 offensive playbook: There's a strong connection between 49ers head coach Dick Nolan and the Cowboys in addition to the playoff losses. Before taking over the 49ers, Nolan served as defensive coordinator for the Cowboys under legendary head coach Tom Landry.