49ers Fans to Get Married Inside Levi's® Stadium Suite before Chargers Game

Thursday, August 21, 2014
Mindy Freeman and Jon McGrath both grew up and went to high school in Sacramento; both were raised to be San Francisco 49ers fans; and both joined the military, she as a member of the Air Force sent to Afghanistan and he as a Navy corpsman deployed to Iraq.
They didn't meet until five years ago when, after both had returned to their home city, Freeman was volunteering in the Kaiser Permanente Hospital that McGrath worked in.
Now they're getting married.
The happy couple will tie the knot in a rented South Trophy Suite inside of Levi's® Stadium on Sunday, before their favorite football team hosts the San Diego Chargers in a Week 3 preseason game.
The new building has hosted wedding proposals before — but never a wedding.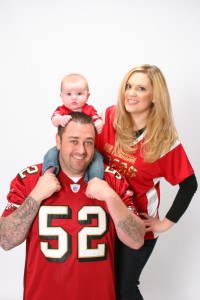 Wherever Freeman and McGrath have gone, across the ocean or to their current home in Idaho, they have maintained their tight connection to the 49ers.
Freeman, now a full-time nurse, wears a "I love my 49ers" name badge to work; both she and McGrath have team decals on their cars; and the family sports a red and gold flag outside their house on gamedays.
"The good thing about being up here in Idaho is that there is no NFL team," Freeman said. "Conflict-wise, we're doing OK because a lot of people up here are 49er fans. We have the occasional Seahawks fan, but we can overcome that."
LevisStadium.com also asked the bride-to-be about her upcoming ceremony…
LS.com: How did this all come about?
"We have been engaged for a year a half now, and I have been trying to plan the wedding, but with nursing school and moving and starting a new job and having a new home built right now — there are so many things going on that we kept waiting. One day I had this idea. I thought, 'Well, Levi's® Stadium is brand-new and it's going to be so long until we'll be able to go out there without tickets. But maybe we could get married in a suite.' So I immediately sent an email but couldn't sleep that night. The next day, we got a call from the the stadium's suite reservations rep saying that they could make it work. That was three weeks ago. So I go from thinking I'm going to have a year to plan a wedding to having three weeks to plan a wedding."
LS.com: Was your fiance on board with the idea right away?
"Absolutely. He called his family and friends and they said, 'How did you talk her into this?' He would say, 'Actually, this was her idea.' We're really excited that we get to see the stadium so fast. We'll get to bring our son there. Obviously, he won't remember it, but we'll have pictures to show him when he's older."
LS.com: How old is he now? Is he already a fan?
"He's 13 months old now, a little boy named Chance. He was born during Giants baseball season, so he's been raised on that and 49ers football. He's always had his onesie jersey. For our wedding, he'll be wearing 49ers suspenders and bow-tie and 49ers shoes."
LS.com: What will you and your wedding party wear?
"I am going to be wearing a white wedding dress, but when we get back to the suite, I'll be throwing a Patrick Willis jersey over the top. My fiance and all his groomsmen will be wearing NaVorro Bowman during the game."
LS.com: What's the plan for wedding day/gameday?
"A lot of us have hotels nearby. Everyone will meet us at the hotel at 8:30 a.m. We have five parking passes for 20 people total. We will all meet up at the hotel and drive to the stadium together. The 49ers were able to work it out so that we get to be able to go into the 49ers Museum at 9:30 a.m. before it opens because I thought that would be the best place to take pictures. My maid of honor, the best man and the other groomsmen and the photographer will also go in there while our guests are wandering the stadium. Then we're going to get married in the suite. I'm still not sure how we want to do it — we may want to have the field in the background, but the lighting might be too bright. Then we'll head over to Michael Mina's Tailgate, where they have a section reserved for us to celebrate. Then we'll come back to the suite for the game and have dessert and drinks in there."