49ers CEO Jed York Announces Levi's® Stadium's LEED Gold Certification on Twitter

Tuesday, July 22, 2014
It's official.
San Francisco 49ers CEO Jed York Tweeted that Levi's® Stadium, his team's new home, has earned the gold certification offered by LEED (Leadership in Energy and Environmental Design). It's the NFL's first venue to open at the gold level.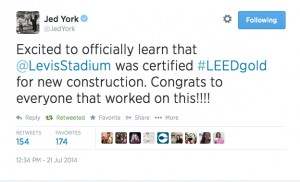 LEED is the recognized standard for measuring sustainability for design and construction. Levi's® Stadium, the building itself, earned enough points on LEED's certification test. Here are some examples of the stadium's "green" efforts:
3 NRG Energy Bridges for ticketholders to come to stadium events
1,162 photovoltaic panels in the stadium
27,000-square foot NRG Solar Terrace atop the west-side suite tower
50 percent less water used by the Bermuda Bandera grass playing field
85 percent of the water used at the stadium will be recycled water
There will also be a LEED dashboard inside the stadium to show off the building's care for the environment.