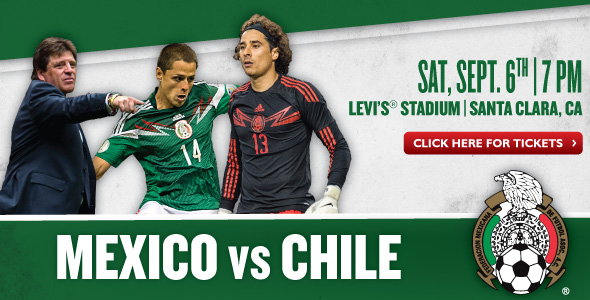 September 6, 2014 - 7:00 pm (PT)
The Santa Clara Stadium Authority joined the Federación Mexicana de Fútbol (FMF), Soccer United Marketing (SUM) and the San Jose Earthquakes to announce that Levi's® Stadium will host its first international soccer match on Saturday, September 6th when Mexico and Chile meet at 7:00 p.m. local time. The match is the first of two for the Mexican National Team in the United States this September (Sept. 9, vs. Bolivia in Denver) as the team prepares for the 2015 CONCACAF Gold Cup and Copa America tournaments.  
Mexico's game against 12th-ranked Chile marks its first contest in the Bay Area since 2013 when El Tricolor played Peru to a 0-0 draw at Candlestick Park. The match between Mexico and Chile at Levi's® Stadium will be the 27th contest ever between the two 2014 FIFA World Cup participants. Mexico holds the all-time record over the 2015 Copa América hosts with 14 wins, 10 losses and two draws. The last time Mexico and Chile faced each other was in September 2011 when El Tricolor defeated Chile by a score of 1-0. Both teams advanced to the Round of 16 in the recently completed 2014 FIFA World Cup in Brazil.
Levi's® Stadium will host its first sporting event on Saturday, August 2, when the San Jose Earthquakes square off against the Seattle Sounders FC in a regular season MLS match. The Mexico versus Chile match marks the first event secured as part of a long-term partnership between the San Francisco 49ers and San Jose Earthquakes to bring top-tier soccer events to the South Bay.
Tickets are onsale now. Purchase tickets.
PRICING AND SEATING MAP