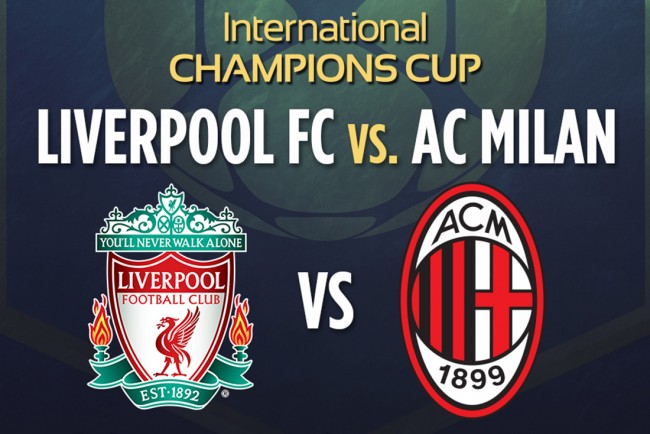 July 30, 2016 - 7:00 pm (PT)
Levi's® Stadium will host Liverpool FC and AC Milan on Saturday, July 30 at 7pm PST as part of the 2016 International Champions Cup. This is the second consecutive season that Levi's® Stadium has hosted an International Champions Cup match. Last year, Barcelona and Manchester United squared off in front of a sold-out crowd of more than 69,000 that saw Manchester United defeat the Champions league winners 3-1.
Date: Saturday, July 30
Time: 7pm
Tickets: Purchase Tickets
Parking: Purchase Parking
2016 INTERNATIONAL CHAMPIONS CUP
The 2016 International Champions Cup will run from July 23 – August 13 and play matches across the United States an throughout the world. Each team will play three contests and the club with the most points at the end of the tournament will be crowned champion. Each win in regulation will result in three points and a tie will go straight to a shootout; the winning team in a shootout will receive two points and the losing team will receive one. In total, 10 teams from around the globe, including England (Liverpool FC, Chelsea FC, Leicester City), Italy (AC Milan, FC Internazionale), France (Paris Saint-Germain FC), Spain (Barcelona, Real Madrid), Germany (FC Bayern Munich), and Scotland (Celtic FC) will compete in the 2016 International Champions Cup. This year's International Champions Cup features the most storied and successful clubs in the world, including many of the world's top players. The ten participating teams have won a total of 190 domestic league titles, 246 domestic cups titles and 36 UEFA Champions League titles. The teams feature 18 of the 2015-2016 FIFA Ballon d'Or nominees, as well as 50 of the top 100 players in the world as chosen yearly by renowed English magazine FourFourTwo.
We ask that all guests attending the event, please review the stadium event guide prior to  arrival.
All guests ages 2 and above must have an event ticket to enter the stadium. There will be no re-entry after admittance. Guests should have their tickets ready to scan upon approaching the stadium entry gates. The ticket barcode must be visible no matter the ticket type.
Re-Entry Policy
There will be no re-entry after admittance. Guests should have their tickets ready to scan upon approaching the stadium entry gates. The ticket barcode must be visible no matter the ticket type.
VISA Box Office
Will Call will be located at the VISA Box Office at Toyota Gate F and opens at 3:00pm.
Michael Mina's Bourbon Steak & Bourbon Pub:
Bourbon Steak & Bourbon Pub will open at 4pm on event day. Head to Bourbon Steak for an elegant 3-course, $95 per person menu or for a more casual environment, head to Bourbon Pub. Reservations are recommended by calling 408-217-2490.
Saturday, July 30
| | |
| --- | --- |
| Visa Box Office Opens | 3:00pm |
| Parking Lots Open | 3:00pm |
| Premium Gates Open | 5:00pm |
| Stadium Gates Open | 5:00pm |
| Bourbon Steak & Bourbon Pub Opens | 4:00pm |
| Museum | CLOSED |
| Event Start / Kickoff | 7:00pm |
BUY PARKING
---
Quick Links
Levi's® Stadium will adhere to the following policy and prohibits all bags, backpacks and other carriers from being brought into the stadium with the following exceptions:
Clear plastic bags up to 12″ x 6″ x 12″
One gallon clear plastic zip lock type bags
Small clutch bags approximately the size of an adult's hand (4.5″ x 6.5″) with or without a handle or strap, may be carried into the stadium.
Bag Check Locations
There will be several bag check locations available for guests to check-in any bags that are not in compliance with the bag policy. These locations are located at the following: Toyota Gate F, Intel Gate A, Dignity Health Gate C
We encourage all guests to purchase pre-paid parking passes in advance on Ticketmaster.com or on the Levi's® Stadium mobile app. Please note, parking will increase by $10 on the day of the event.
Access will not be granted into the stadium parking lots for vehicles without the necessary event ticket(s) and parking pass. Overnight parking is strictly prohibited and tailgating will not be allowed once the event begins. If you are dropping off guests, please utilize the designated Pick-up/Drop-off areas.
Please be reminded of the following:
Everyone must have a ticket for the event
Tailgating must end by show time as all parking areas will be cleared at that time
Tailgating is only allowed in designated lots and directly in front or behind your vehicle. Tailgate equipment may not encroach on the driving lane
No overnight parking or camping is permitted in any Levi's® Stadium parking lot. All lots will be closed and cleared no later than 2 hours following each event
Vending of any kind is not permitted in any Levi's® Stadium parking lot or surrounding areas
Bicycle Parking
Bicycle parking will be located outside of Intel Gate A.
Accessible Parking
All accessible placarded guests should park in Red Lot 1. Mobility services will be onsite to provide roving carts throughout Red Lot 1 and the yellow lots for assistance to stadium gates.
Parking Lots in Operation
Automobiles/Motorcycles:
Green Lot 2, Red Lot 1, Blue Lot 1, Yellow Lot 2, Yellow Lot 3
$50
Accessible Parking
Red Lot 1
$50*
Buses/Oversized Vehicles – Tailgate
Blue Lot 1
$120
Buses/Oversized Vehicles – Non-Tailgate
Green Lot 2
$100
*with valid placard
BUY PARKING
All guests must be in possession of a valid event ticket, pass, or credential to park in a designated parking lot. Guests must have a pre-purchased parking pass in order to park in Red Lot 1, Yellow Lot 2 and Yellow Lot 3. Buses that wish to tailgate must contact the Visa Box Office at 408-579-4449 to purchase parking in advance.
Tailgating is permitted in specified areas only. Non-compliance may result in ejection from the lot without compensation. Tailgating will cease after the event starts.
Tailgating is defined as; the use of any item (including tables, chairs, free-standing canopies or umbrellas, awnings attached to recreational vehicles, coolers, barbeques, grills, games, generators, televisions, sound systems, food or drink, food or drink preparation or serving equipment, or other items as identified by the City Manager or designee) for the purpose of an outdoor gathering by one or more people prior to, during or after a scheduled stadium event.
All guests must be in possession of a valid event ticket or credential.
Amplified sound is prohibited.
Excessive consumption of alcohol is prohibited.
Tailgating cannot impede vehicle or foot traffic.
Tailgating is limited to the area directly in front of or behind your vehicle only.
Empty spaces may not be reserved or used for the purpose of tailgating.
Tents or canopies exceeding an 8' x 8' footprint are not permitted.
Appropriate receptacles must be used for the disposal of hot coals.
All Guest Code of Conduct and parking policies are in effect.
PERMITTED & PROHIBITED ITEMS
All individuals and their belongings are subject to search. The following information is subject to change without notice.
Fans with medical bags or items they must carry with them must be inspected and either have a wristband or sticker placed on it to show that it has been inspected. PLEASE ARRIVE EARLIER TO AVOID LAST MINUTE GATE PRESSURE.
The following ARE PERMITTED in the stadium during Levi's® Stadium Events:
Bags that comply with the Bag Policy (see Bag Policy above)
Blankets
Cameras with 3-inch lenses or shorter (no lights, tripods, selfie-sticks or monopods)
Clear plastic zip-lock bags
Diaper bags accompanying a child
Flags (No Poles)
Food and fruit (must be cut into pieces).
Plastic bottles (sealed) and thermoses (no alcohol)
Seat cushions
Strollers **
Umbrellas *
The following ARE PROHIBITED in the stadium:
Any distraction to the game
Any fan perceived to be intoxicated
Backpacks
Bags that violate the Bag Policy (see Bag Policy above)
Cans, glass bottles or alcoholic beverages.
Coolers (including soft-sided coolers)
Disorderly conduct or obscenity (see "CODE OF CONDUCT")
Failure to follow the directions of law enforcement, security, ushers, ticket takers, or any other Levi's® Stadium personnel.
Fighting, taunting, or threatening remarks and / or gestures
Gang activity
Glow sticks, light-up costumes, light-up signs, battery packs
Intoxication or signs of impairment related to alcohol or drugs
Irresponsible drinking or behavior
Klaxons, bullhorns, whistles or any other noisemakers
Laser pointers of any type
Mistreatment of visiting team fans, including verbal abuse, harassment, profanity, confrontations, intimidation, or threatening behavior.
Obscene or abusive language and / or behavior
Occupying any seat without the appropriate ticket
Offensive clothing
Projectiles (footballs, Frisbees, etc.)
Selfie Sticks
Sharpies
Signs, banners or poles
Smoking
Throwing objects of any kind
Weapons of any kind (including silverware).
* Umbrellas are allowed in the stadium provided they do not obstruct another guest's view or pose any safety hazard.** Please contact your nearest Playmaker if you are in need of storing a baby stroller or wheelchair as they are not permitted to be stored in the seating areas.
Anyone possessing PROHIBITED items will be asked to return them to their cars, take them to one of our Bag Check stations or dispose of them in the garbage cans provided at the gate.
Caltrain and Valley Transportation Authority (VTA) will be running for this event. View VTA and Caltrain route and schedule information. For additional information regarding public transportation click here.
Valley Transportation Authority (VTA)
VTA provides buses and light rail transportation in the greater San Jose area reaching Mountain View, Cupertino, and Sunnyvale. VTA buses will drop off guests in two (2) locations:
› Intersection of Tasman Drive and Great America Parkway
› Intersection of Tasman Drive and Calle Del Sol
VTA light rail trains will drop off and pick up at the Great America Station located north of the stadium. For more information, please visit www.vta.org, or call 408-321-2300.
Caltrain
Caltrain provides services from San Francisco to South San Jose with stops all along the peninsula. On event day, Caltrain transports passengers from all locations to connect with VTA light rail trains or buses at the Mountain View Transit Center, located at Evelyn Ave, and Castro Street. For more information, please visit www.caltrain.com, or call 1-800-660-42871.
Note: Caltrain passengers must purchase a separate ticket to ride the VTA Light Rail. A joint Caltrain/VTA Adult Day Pass will be available to purchase at Caltrain station ticket machines.
All accessible parking will be directed to Red Lot 1. Guests who possess a valid placard will be directed to park in Red Lot 1 and must display their placard at the entrance to be admitted.
Levi's® Stadium takes pride in providing elite service to all guests including those requiring mobility assistance. We provide a variety of services for our guests with special needs. Included in these services are courtesy shuttle buses from several of our parking lots, golf cart shuttles in the Main Lot, and Guest Services representatives to provide wheel chair service if requested. Guests that require additional assistance are encouraged to contact our mobility assistance team at 408-579-4610 or email mobilityservices@LevisStadium.com.
Assisted Listening Devices will be available at all Guest Services kiosks presented by United located throughout the stadium.
Recommended exit routes to take based on your desired destination.
Exit Intel Gate A
For fans riding the VTA Light Rail to Caltrain or who have parked in Red Lot 1 should exit via Intel Gate A.
Exit Dignity Health Gate C
For fans parked in Blue Lot 1 or heading to the Charter Bus Parking lot, we recommend exiting via Dignity Health Gate C.
Exit Toyota Gate F
For fans riding ACE trains, VTA Buses, Capitol Corridor trains, taxi or rideshare, or who have parked in Yellow Lots 2, 3, Red Lot 6, should exit via Toyota Gate F.