49ers Foundation Picnic on the Field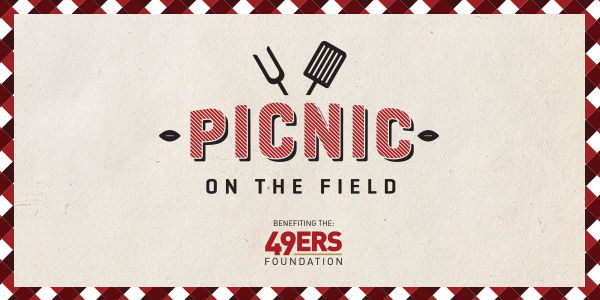 June 16, 2018 - 1:00 pm (PT)
PARKING POLICY →  |  BAG POLICY →  |  EVENT MAP →  |   PUBLIC TRANSPORTATION →  |  ACCESSIBLE SERVICES → |  FREQUENTLY ASKED QUESTIONS →

Please note, this event is mobile entry only. Tickets will not be emailed or available to print. Your mobile ticket must be displayed on your phone to get into the event using the Levi's® Stadium app or Ticketmaster app. 
Join the inaugural ultimate summer BBQ on the field at Levi's® Stadium! For more information please visit 
www.49ers.com/picnic
.
Be sure you have access to your tickets prior to the event! To access your tickets, log in to Universe.com on your desktop computer to view and print your tickets now. You can also download the Universe app or view your tickets on your mobile device's internet browser, should you choose to go mobile only to scan your tickets.
ENTRY WILL CLOSE AT 2:30 PM! 
REMINDER: Kids 12 years old and under are FREE with an accompanying, ticketed adult and do NOT need a ticket. Each ticketed adult can accompany up to FOUR (4) children under 12.
If you have any questions, please do not hesitate to email Go49ers@49ers.com or call the Visa Box Office at 408-579-4449 Monday-Friday from 9:00 AM to 5:00 PM. Staff will be onsite for Picnic on the Field as well should you need any assistance on the day of. 
All tickets include:
We ask that all guests attending this event to please review the stadium event guide prior to your arrival.
Clear Bag & Stroller Policy 
Levi's® Stadium will adhere to the following policy and prohibits all bags, backpacks and other carriers from being brought into the stadium with the following exceptions:
Approved clear bags no larger than 12" x 6" x 12". These include the following clear bags:

Clear Backpacks
Clear Bags
Clear Purses

One gallon clear plastic zip lock type bags
Small clutch bags approximately the size of an adult's hand (4.5″ x 6.5″) with or without a handle or strap, may be carried into the stadium.
All approved bags are subject to inspection upon entry and are subject to additional inspections within the stadium. View the full bag policy, and permitted and prohibited items on LevisStadium.com.
Strollers are not permitted beyond Intel Gate A and will be checked in the Bag & Stroller check location.
The bag & Stroller check will be located at Intel Gate A for guests to check-in any bags that are not in compliance with the bag policy.
Parking is free and on a first-come, first-serve basis in Red Lot 1, with overflow parking in Yellow Lot 1 (see map below). You do NOT need a parking pass to park at Picnic on the Field. 
For additional information regarding public transportation click here.
Valley Transportation Authority (VTA)
VTA provides buses and light rail transportation in the greater San Jose area reaching Mountain View, Cupertino, and Sunnyvale. VTA buses will drop off guests in two (2) locations:
› Intersection of Tasman Drive and Great America Parkway
› Intersection of Tasman Drive and Calle Del Sol
VTA light rail trains will drop off and pick up at the Great America Station located north of the stadium. For more information, please visit www.vta.org, or call 408-321-2300.
Caltrain
Caltrain provides services from San Francisco to South San Jose with stops all along the peninsula. On event day, Caltrain transports passengers from all locations to connect with VTA light rail trains or buses at the Mountain View Transit Center, located at Evelyn Ave, and Castro Street. Fans heading to the concert can get off at the Mountain View station and transfer to VTA light rail to Levis'® Stadium. Caltrain will be running a regular schedule to the concert on both Friday and Saturday. 
After the concert, there will be one extra northbound train that departs the Mountain View station approximately 75 minutes after, or when full. For more information, please click here or call 1-800-660-4287.
DROP OFF/PICK-UP AREA FOR UBER
Uber is the official ride-sharing partner of Levi's® Stadium and will have a designated drop off and pick-up location for this event at Red Lot 7.
At the conclusion of the event, guests using the Uber app, should exit Levi's® Stadium through Intel Gate A or Toyota Gate F and follow signs to Red Lot 7 via the San Tomas Aquino Creek Trail and/or Great America Parkway.  We ask guests to open their app and request a ride once they arrive to the Red Lot 7.
All accessible parking will be directed to Red Lot 1. Guests who possess a valid placard will be directed to park in Green Lot 1 and must display their placard at the entrance to be admitted.
Levi's® Stadium takes pride in providing elite service to all guests including those requiring mobility assistance. We provide a variety of services for our guests with special needs. Included in these services are courtesy shuttle buses from several of our parking lots, golf cart shuttles in the Main Lot, and Guest Services representatives to provide wheelchair service if requested. Guests that require additional assistance are encouraged to contact our mobility assistance team at 408-579-4610 or email mobilityservices@LevisStadium.com.
Assisted Listening Devices will be available at all Guest Services kiosks presented by United located throughout the stadium.
Recommended exit routes to take based on your desired destination.
Exit Intel Gate A
For fans riding the VTA Light Rail to Caltrain, ride-sharing or who have parked in Red Lot 1 should exit via Intel Gate A.
Exit Dignity Health Gate C
For fans parked in Blue Lot 1 or heading to the Charter Bus Parking lot, we recommend exiting via Dignity Health Gate C.
Exit Toyota Gate F
For fans riding VTA Buses, taxi or rideshare, Uber or who have parked in Yellow Lots 2, 3 should exit via Toyota Gate F.
FREQUENTLY ASKED QUESTIONS
What should I bring to Picnic on the Field?
Be sure to bring a blanket to sit on, empty water bottles to stay hydrated at our water filling stations, and sunscreen and other sun protection as this event will take place on the field at Levi's® Stadium with select shaded areas.
Can I bring a stroller to Picnic on the Field?
Strollers will be permitted up to the Gate A check in, but will need to be checked at our Bag and Stroller Check Station at Gate A before entering Picnic on the Field.  Strollers cannot be taken into the event.
Is Picnic on the Field wheelchair accessible?
Absolutely. There will be an ADA entrance and accessibility to the activities on the field.
Do I have to follow the NFL game day bag rules for this event?
Yes, Picnic on the Field will abide by the same NFL Game Day bag rules and regulations, found below.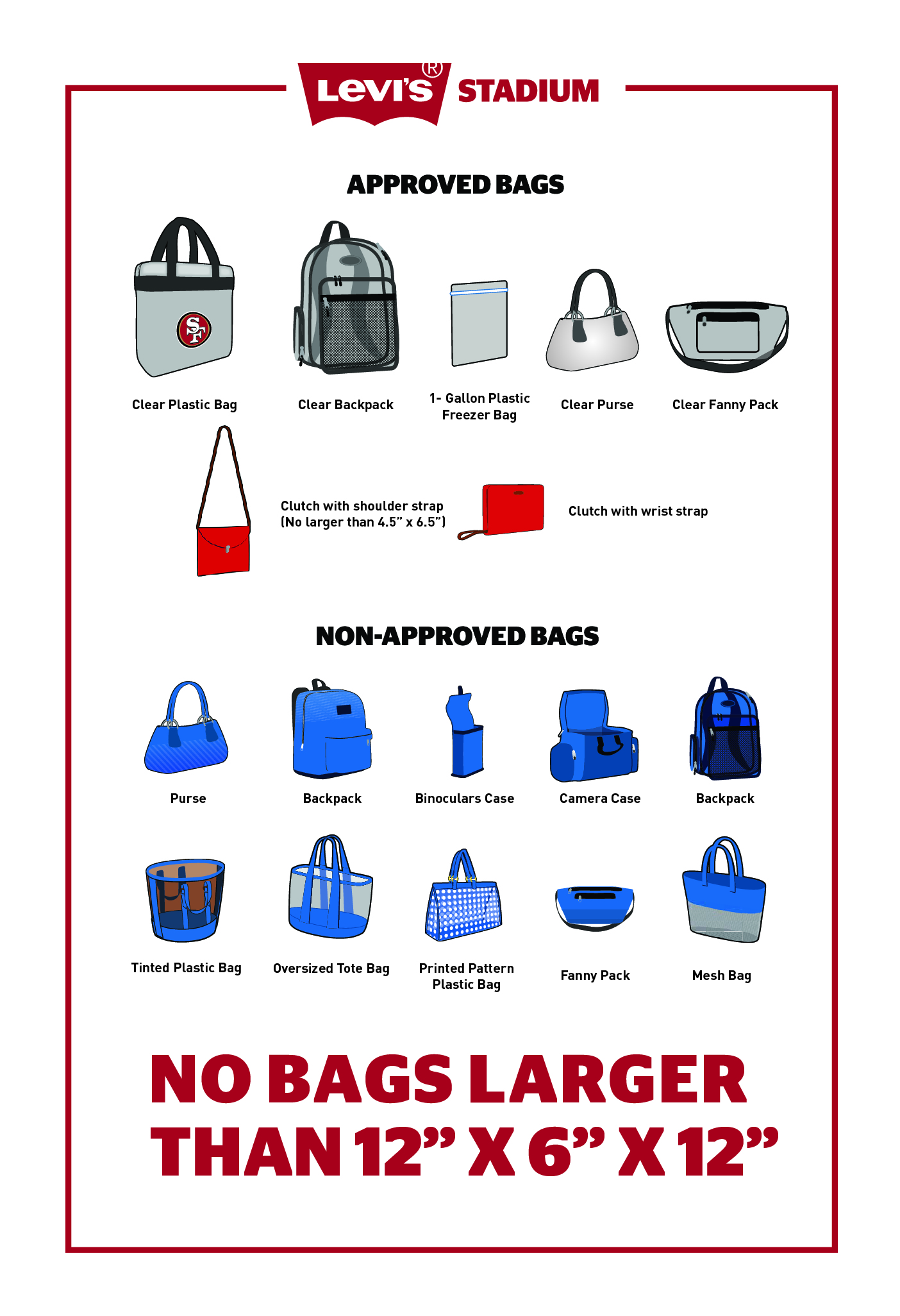 Can I bring my pet to Picnic on the Field?
Unfortunately, we do not allow pets to attend Picnic on the Field.
Is smoking permitted at Picnic on the Field?
Smoking will not be permitted at Picnic on the Field and there will not be a designated smoking area.
Will re-entry be allowed at Picnic on the Field?
Re-entry will not be permitted at Picnic on the Field. Once a guest enters the event and then exits the secured area, that guest will not be permitted to return.
Who else from the 49ers family will be in attendance?
While we cannot confirm whether current players will attend, we can confirm that several 49er legends will be in attendance and signing autographs for a period of time at Picnic on the Field! We can also confirm that Sourdough Sam will be on site participating in activities in the Kids Zone!
What does the VIP Happy Hour include?
The Picnic on the Field VIP Happy Hour includes an open bar of beer and wine from 12:00 PM to 1:00 PM.
What food will be served at the Picnic?
There will be a variety of food options available ranging from summer BBQ fare (hot dogs, hamburgers, and festive sides), as well as vegetarian, vegan, and gluten-free items. The event will also feature cuisine from local food trucks and restaurants for purchase with a percentage of proceeds benefiting the 49ers Foundation.
Is parking free for Picnic on the Field?
All tickets include free parking in the Red Lot 1 and Yellow Lot 1 parking areas.
What does the VIP ticket include?
The VIP ticket includes early entry to Levi's® Stadium, access to an open bar (beer & wine) from 12:00 PM – 1:00 PM in the BNY West Club, and a selection of complementary food.
Do children 12 and under need identification or proof of age to enter for free?
While it would be helpful for children 12 and under to have proof of age, it is not required for them to receive free entry with a ticketed adult.
How many children under 12 are permitted with each ticketed adult?
Each ticketed adult can accompany up to 4 children under 12 for free. Anyone 13 years old and over must have a ticket to enter Picnic on the Field.
If you don't find your question answered above
Unless otherwise noted above, the 49ers Foundation's Picnic on the Field will abide by Levi's® Stadium rules and regulations that can be found in our A to Z guide HERE.